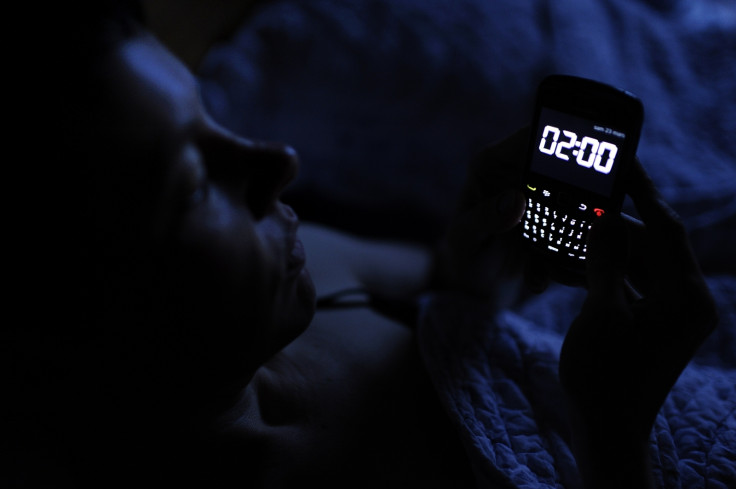 Do you wake up in the middle of the night and instinctively grab your smartphone to check the time, any new messages, emails or updates? Researchers have found that one in three UK adults check their smartphones in the middle of the night, a recent study shows.
According to Deloitte's sixth annual Mobile Consumer Survey that analysed the smartphone habits of over 4,000 people in the UK, one in 10 UK adults admitted to reaching for the phone as soon as they wake up while 52 % check within 15 minutes. Over half of smartphone users admitted to checking their phones within 30 minutes of going to bed. While a quarter check their smartphones five minutes before going to sleep, a tenth check on it immediately before turning in for the night.
"In a mere nine years the smartphone has had a massive impact on UK society. Collectively, UK citizens look at their smartphones over a billion times a day," the report reads. "Smartphones are personal, but their usage impacts on those around them. As with most emerging technologies, consumers will need to learn how best to run their lives with smartphones, as opposed to having their lives run by their devices."
Around 81% of UK adults now own a touchscreen smartphone, nine years after the personal devices first entered the market, rising to 91% for people between 18 to 44 years old.
Nocturnal smartphone usage was also found to be concentrated among younger age groups with about half of all 18-24 year olds checking their phone in the middle of the night. Of those that do, about a fifth check instant messages while a seventh reply to them.
Researchers also note that while smartphones can enhance social lives, "overuse can be perceived as anti-social, and cause arguments". More than a third of 18 to 44 year olds have said that their excessive smartphone usage has caused disagreements with their partners, rising to 38% for 25 to 34 year olds. Around 54% of smartphone users said they have used their phone while watching TV or films while 28% said they do so while eating in a restaurant with friends or family.
"Smartphone usage can certainly be considered objectionable," the report reads. "But this is the same as for any activity that distracts, be this looking at one's watch or looking out the window during a dinner for two."
However, despite users' increasing dependency on their smartphones, researchers note that the smartphone market is reaching saturation point. The study found that the pace of smartphone adoption is "slowing to a crawl" with smartphone penetration increasing 2% to 4% in the next 12 months from 7% in 2015.
The researchers said that although smartphone penetration may be approaching a peak, "its impact should continue to grow over the coming years".
"The smartphone's success has overshadowed the performance of other devices, including tablets," Paul Lee, head of technology, media and telecommunications research at Deloitte, wrote. "The era of smartphone growth is drawing to a close; consolidation will be an exciting time."