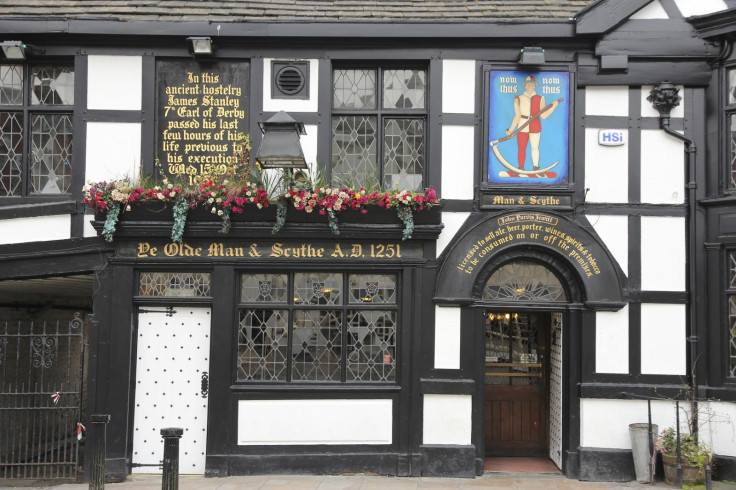 A pub that has stood at the same spot in Bolton since at least 1251 is asking for its ghost back – after a Chinese artist "stole" the spectre and put it in an exhibition. Ye Olde Man & Scythe was first mentioned in records in 1251 but the exact date of its founding is uncertain.
The Seventh Earl of Derby, James Stanley, is said to have spent his last few hours sitting in the pub before being executed in 1644, during the English Civil War.
His ghost was said to haunt the pub, with footage alleging to show the spirit coming out in 2014.
But a Chinese artist, Lu Pingyuan, claims to have stolen the ghost and sealed him in a metal canister, which is being exhibited at the Centre for Chinese Contemporary Art in nearby Manchester.
The description of the exhibit says that on learning the story of Stanley and the pub "Lu Pingyuan was inspired to attempt to catch the ghost of this historical figure – a symbolic act in reaction to the UK's colonialist past, which saw great losses of both tangible and intangible cultural assets by other nations."
The pub's owner told theboltonnews.co.uk that he was not happy when he learned of Lu's claims and wrote him a letter. "I would have liked to have been privy to your actions and indeed to the exhibition before the ghost of James Stanley was taken out of Bolton, his ties to the town and to Ye Olde Man and Scythe run very deeply," it read.
In the letter, the owner said that he was happy for Lu's exhibition to travel but that he wanted to be sure the ghost of James Stanley would "return home" after the tour – even saying he would donate the chair that Stanley sat on before his execution as long as both the chair and ghost were returned at the end.
Lu told the site that he would prefer to discuss the future after the exhibit with the ghost and see "whether he would prefer to stay like this, as a piece of art, or go back to the Ye Olde Man & Scythe."