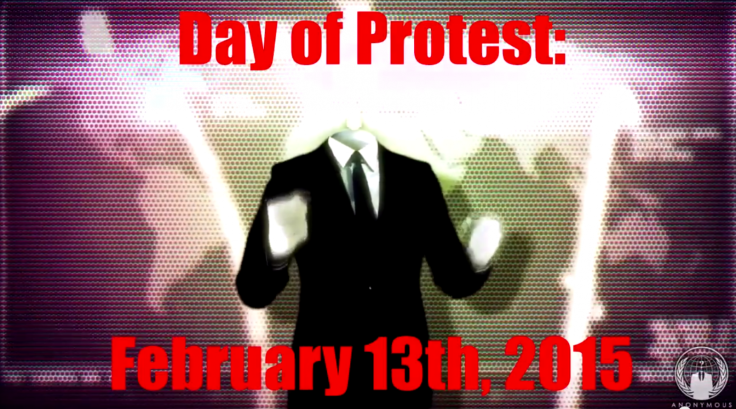 Online activists including the Anonymous hacktivist group, are planning a series of marches across the US and UK in a day of protest as part of thier OpDeathEaters campaign to highlight what they call a global network of "pedosadistic" men of power and those who protect them.
Marches are scheduled to take place on Friday, 13 February in London, Essex, Glasgow, Edinburgh, Rochdale, Leeds and Birmingham in the UK, while similar events will take place in New York, Dallas, Philadelphia and Los Angeles in the US.
The group is also carrying out a so-called Twitterstorm using the #OpDeathEater hashtag between 7pm and 9pm on Friday.
"On February 13th, 2015, we will call on all adults with a shred of dignity and moral outrage to join us as we take to the streets. We are the media. We will be silenced no more," the group said in a statement when they announced the day of protest.
The campaign has gained momentum recently due to a string of high profile allegations of child abuse being made against powerful figures and their coterie of acolytes who protect them.
Among the recent scandals is the alleged Westminster child abuse cover-up of a paedophile ring in the 1980s. In January 2015, a secret government file detailing "unnatural" sexual behaviour taking place at Westminster 35 years ago was discovered in the National Archives.
Prince Andrew
The campaign is also using the recent high-profile allegations made against Prince Andrew of underage sex with a teenage girl supplied to him by US financier Jeffrey Epstein, to help get people's attention.
A video to accompanying the call for the 13 February protest mentions the resignation of David Cameron's aide Patrick Rock after he was charged with making and possessing scores of child abuse images.
The group also mentions Leon Brittan, who died last week, as having "escaped persecution" along with Cyril Smith and Jimmy Savile, "leaving their victims with no justice and the investigations with lost opportunities."
The group adds: "They escaped accountability for their actions. Others will not be so lucky."
March
Anonymous has previously organised numerous marches in support of a variety of campaigns such as an on-going campaign against the Church of Scientology and one in support of Michael Brown, the unarmed teenager shot dead by a police officer in Ferguson, US, in August 2014.
The group's most successful real-world protests have been its annual Million Mask March, which takes place on Guy Fawkes night and sees millions of people take to the streets of cities around the globe in protest at everything from corruption to tax rises.
The people behind Operation Death Eaters - a reference to the acolytes of Lord Voldemort from the Harry Potter series of books - are asking members of the public to contribute to a database of paedophile cases which it says will help expose a global network of what it terms "paedosadists".