A leader of the Democratic Republic of Congo (DRC)'s main opposition coalition, Le Rassemblement, has warned the country could return to violence in the scenario in which President Joseph Kabila stays on beyond 19 December, when his term ends. Critics accuse Kabila – who has been in power since his father was assassinated in 2001 – of trying to stay in power beyond the legal limit and fear a bloody fallout.
A number of opposition parties, which formed the Rassemblement – or "Rally"– coalition, snubbed an African Union facilitated agreement which set out conditions for a "government of national unity" under which Kabila appointed opposition leader Samy Badibanga as Prime Minister last week.
Raphael Katebe Katoto, a politician and member of the Rassemblement, explained the coalition rejects the transitional government because it believes it gives Kabila an opportunity to justify clawing to power.
The Catholic Bishops' Conference (CENCO) has stepped in to facilitate discussions between the government and the opposition – a measure supported by the international community including the United States (US) which recently imposed sanctions on several top DRC officials.
"With all his behaviour, Kabila is making the situation worse, and is only toughening the position of the Rassemblement, because he has not shown any gesture of goodwill. At the contrary, he continues to arrest people, he appoints a Prime Minister while we negotiate, he carries out a political coup d'etat," Katebe Katoto, elder brother to opposition leader Moise Katumbi, told IBTimes UK in an exclusive interview.
Katumbi has not been on Congolese soil since 20 May after authorities issued an arrest warrant for him. He was convicted in absentia for corruption and sentenced to 36 months imprisonment and remains in exile in Belgium. Football magnate Katumbi has repeatedly denied the allegations.
"To ensure successful negotiations with every important personality from the Rassemblement [including Katumbi], we had asked for these trumped-up charges to be dropped and the arrest warrant lifted so everyone could participate and be heard. Bishops of the CENCO also made these demands, to which Kabila responded he was "looking into it".
But he never did it and has not yet changed his position," the politician explained.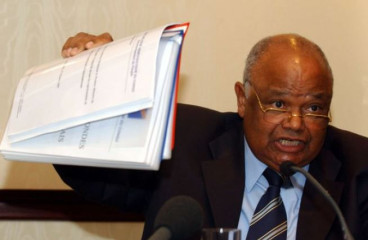 His comments come as the US State Department urged the government and opposition to work with CENCO to address several issues, including a timeline for presidential elections in 2017, an "inclusive transitional government" and the guarantee "that President Kabila will not seek another term and the constitution will not be changed to enable one".
"The international community can take whatever position it wants, what matters is what the Congolese want: they no longer want Kabila in power after 19 December," Katebe Katoto said, hinting at the risk of an "insurrection" movement. "Whoever will preach against the people's wish will be rejected."
Echoing concerns about growing risks a return to violence, Katebe Katoto added: "This means there is no peace. We have a month left [until 19 December], and I don't know what is going to happen because Congolese people will not accept it. Everything is imaginable. It is terrible."
The DRC government, meanwhile, issued a statement in which it welcomed the US' support for ongoing discussions by political and civil society groups. We also welcome the US Government's request that those who have not yet joined this agreement "refrain from inflammatory rhetoric or actions inconsistent with democratic norms," François Nkuna Balumuene, DRC ambassador to the US, said.
Questioned by AFP about allegation that security forces had conducted arbitrary arrests of protesters, political opposition and journalists, the government spokesman, Lambert Mende, declined to comment.