Ten people were killed and seven injured following a shooting at Umpqua Community College in the US state of Oregon on 1 October. Among the dead was the gunman, identified as 26-year-old Chris Harper-Mercer. County commissioner Chris Boyce said the shooter was "brought down".
At a press conference Sheriff John Hanlin confirmed that Harper-Mercer was "neutralised" during exchange of gunfire with police. "The shooter was a male subject. The shooter is deceased. The shooter's threat was neutralised and officers continue to sweep the campus for other threats. There are confirmed injuries and confirmed fatalities. It is a very active scene. It is a very active investigation and that is really all at this point that I can share."
Hanlin did not reveal whether the gunman was a student nor was he able to confirm reports the shooter posted a warning on social media.
Oregon State Police have released a statement confirming that the situation has been contained: "It is believed there is only one shooter who is no longer a threat. There is no current threat to the community. Staff and family are being taken by bus to the Douglas County Fairgrounds to meet family. Emergency personnel are urging the public to avoid the area as it could hamper emergency efforts. There has been a Joint Information Center established at the Douglas County Sheriff's Office in Roseburg."
Oregon Governor Kate Brown appeared shaken as she expressed her "profound dismay and heartbreak at this tragedy. ... We are holding the community of Douglas County in our hearts today."
10 dead and seven wounded
UCC, which has about 3,000 full-time 16,000 part-time students is located in Roseburg, about 180mi (290km) south of Portland, Oregon.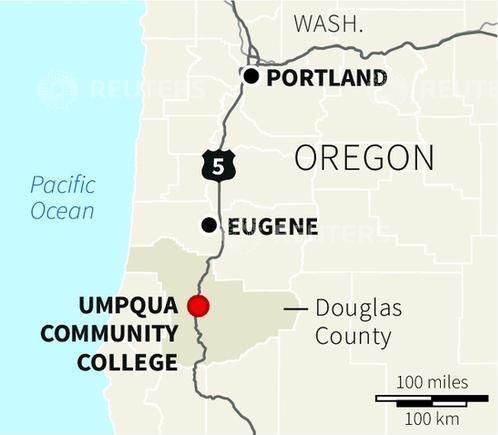 Location of Umpqua Community College in Oregon
C.Chan / Reuters
The shootings began to unfold at 10.38am local time in Snyder Hall a building that houses science facilities on the college's large campus. Local media are reporting the shooter went from class to class in the science building, opening fire. The campus was evacuated, with students and faculty taken by bus to nearby Douglas County Fairgrounds, and remained on lockdown as agents searched for potential explosives and other possible suspects.
Douglas County Fire Marshal Ray Shoufler told CNN: "We arrived to find multiple patients in multiple classrooms. Law enforcement was on scene and had the shooter neutralized."
Witnesses have described hearing multiple shots fired at the campus. UCC Foundation Executive Director Dennis O'Neill told NR Today: "We locked our door and I went out to lock up the rest rooms and could hear four shots from the front of campus. We have heard there are casualties but know nothing more at this stage."
A witness has claimed that the gunman asked people to state their religion before opening fire. Kortney Moore, 18, was in her class when she heard a shot come through a window, the New York Times reports. She said she watched as her teacher was shot in the head. The teenager said the shooter asked people to stand up and state their religion, and then he began firing.
Liliana Navarro, a cashier at Umpqua Community College's Loggers Cafe, told Mic: "Two students came into our kitchen ... and told us they heard gunshots. All of a sudden my manager is telling us we need to lock down."
Shooting warning
It has been reported that a warning message from the shooter was posted on an internet forum last night. The message, which was posted anonymously on bulletin board 4Chan, read: "Some of you guys are alright. Don't go to school tomorrow if you are in the northwest."
The message continues "happening thread will be posted tomorrow morning. so long space robots."The alleged post is no longer visible on the website - the cached version was first posted on Reddit after the shooting.
Calls for gun control laws
White House Press Secretary Josh Earnest said President Obama has been briefed on the tragedy by his Homeland Security advisor. Earnest said the shooting was yet another call for stronger gun control. "The president has been quite candid about how this is and has been a source of frustration for him," he said in a statement.
Following recent state legislation, Oregon is one of seven US states where people are allowed to carry concealed weapons on public post-secondary campuses.
The UCC shooting is the 142nd school shooting since Sandy Hook when Adam Lanza killed 20 first-graders and six teachers with a semi-automatic rifle, before shooting himself. It marks the 45th shooting at a school this year.