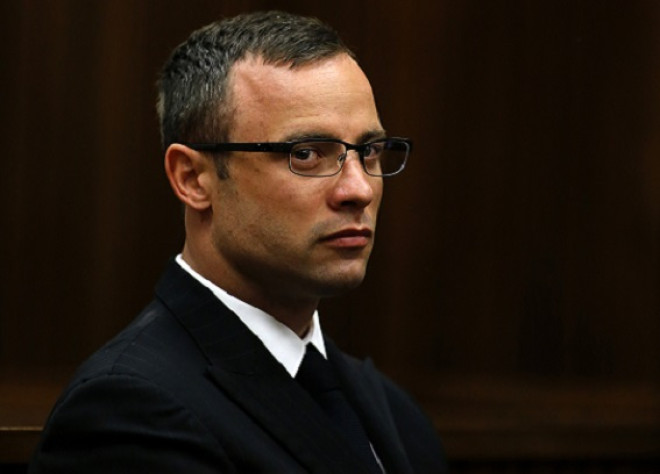 Oscar Pistorius should be placed under psychiatric observation because of concerns he is suffering from an "anxiety disorder", it was claimed at his murder trial.
Prosecutor Gerrie Nel said there was "no choice" but to evaluate the mental health of Pistorius, following testimony from a forensic psychiatrist who examined the runner.
Professor Merryll Vorster told North Gauteng High Court Pistorius had suffered from escalating anxiety throughout his life, which may have its roots in the amputation of his legs below the knees when he was very young.
A key plank of the Olympian's defence is that he opened fire through a bathroom door because he was terrified intruders were breaking in to his luxury home in a gated community.
Vorster said Pistorius may have reacted in such an extreme way to the perceived threat because he was a double amputee and also because of the memory from childhood of his mother's fear of crime.
She noted Pistorius's mother, who died when he was a teenager, slept with a gun in her bed and also had a fear of being attacked in her home.
Vorster said: "It is my opinion that Mr Pistorius has an anxiety disorder. Individuals with an anxiety disorder work hard to control their environment and can be very prepared in order to alleviate their anxiety."
Calling Pistorius "a mistrustful and guarded person" Vorster said the experience at a very young age of losing his legs could have been like a "traumatic assault".
"He was too young to understand why," Vorster told the court. "His mother could not have comforted him because he was pre-language phase. It would have been perceived as traumatic assault.
"With increased levels of anxiety, you perceive your surroundings as being threatening, even when they aren't," she said.
Judge Thokozile Masipa did not rule on whether Pistorius should be placed under mental observation.
Pistorius denies premeditated murder and claims he mistook Steenkamp for an intruder inside his luxury home on the outskirts of Pretoria. The prosecution alleges he killed her following an argument between the couple.
Pistorius also faces charges of illegally firing a gun in public and of illegally possessing ammunition, both of which he denies.
The trial continues.