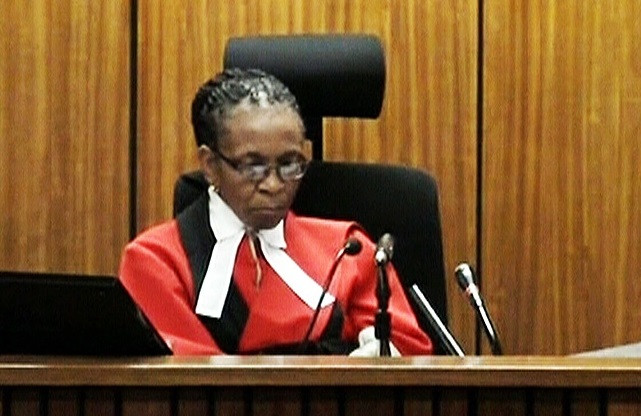 Oscar Pistorius trial watchers engaging in "unruly" behaviour got a withering rebuke from the judge in the murder case.
Observers in a room adjacent to where Pistorius is standing trial have clambered on to tables, scoffed food and cheered and booed like they were in a circus, according to reports.
The reported behaviour took place in the overflow court, just next door to where Judge Thokozile Masipa has been presiding over proceedings, but it is a million miles from the tone of events unfolding in the main court room.
She kicked off proceedings on Thursday by issuing an reprimand to the unruly neighbours, telling them the behaviour fell far below what the occasion demanded.
Addressing the room next door to her in North Gauteng High Court, Maispa said: "Before we start this morning, I have one thing to say. This is addressed to the overflow court. I believe that the people are unruly.
"I just want to remind them that they are an extension of this court. What rules apply for this court, apply for court GC. Please restrain yourself, this is a court. Please make sure, if you do not want to adhere to the rules, you are free to leave."
Pistorius denies premeditated murder and claims he mistook Steenkamp for an intruder inside his luxury home on the outskirts of Pretoria. The prosecution alleges he killed her following an argument between the couple.
He also faces charges of illegally firing a gun in public and of illegally possessing ammunition, both of which he denies.