A nondescript building in a volatile neighbourhood in Karachi is the training ground for some potential Pakistani boxing champions – girls, aged eight to 17. For the last six months, the girls have been training at the Pak Shaheen Boxing Club in , a densely populated Karachi ward known more for gang warfare and sectarian violence than for breaking glass ceilings.
The girls go to the club after school . They touch their hands to their faces in prayer and then, after some simple warmups, get down to serious training, practising their jabs, hooks and upper cuts for hours in hopes of one day winning a medal for Pakistan.
"I have been training since I was a child," said Urooj Qambrani, who is 15. "Inshallah, I will become a national and an international boxer." Pakistani women have been training as boxers in small numbers and competed in the South Asian Games last year, said Urooj's father Younis Qambrani, the coach who founded the club in 1992.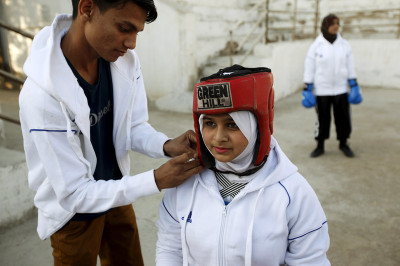 The growth of the sport for both men and women in Pakistan has been dogged by a lack of equipment and adequate facilities, but the situation is slowly improving, Qambrani said. In October, the Sindh Boxing Association organised a camp for female boxers in Karachi. This was the first time a government-supported event for women in the sport was held in the country, according to local media reports.
Some of the girls in Qambrani's family, who had taken up practising at home, participated in the camp, and asked him why they couldn't train at his club as well. Qambrani said a number of girls were keen on training, but due to social pressures, he had been avoiding the issue. "Since our life revolves around boxing, and our girls are surrounded by boxing since birth, they would practice boxing at home to some extent. I had planned to start teaching boxing, but over here there is no concept of it. There are social and traditional pressures which are difficult to overcome," he told Reuters Television.
"Our country's progress, and our girls' progress, lies in getting equal opportunities, so that they can move forward shoulder to shoulder with men. Only then is progress possible. So my wish was that girls should come out into the open," he said.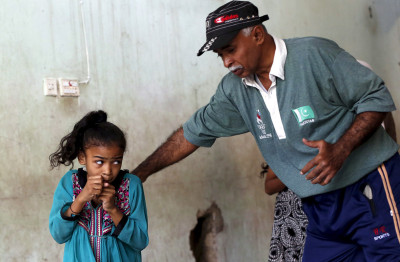 For Anam Qambrani, the coach's 17-year-old daughter, getting the chance to train formally in the club was nothing short of fulfilling her birthright. "Boxing is in our blood. My two uncles are international boxers, and my father is a coach. He is giving us full training," she said.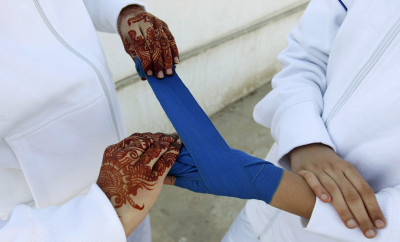 Some of the girls have begun to participate in local tournaments, looking at home in the ring in white track suits, headscarves and boxing gloves.