Paris attacks: Bodies of the victims in the kosher supermarket siege arrive in Israel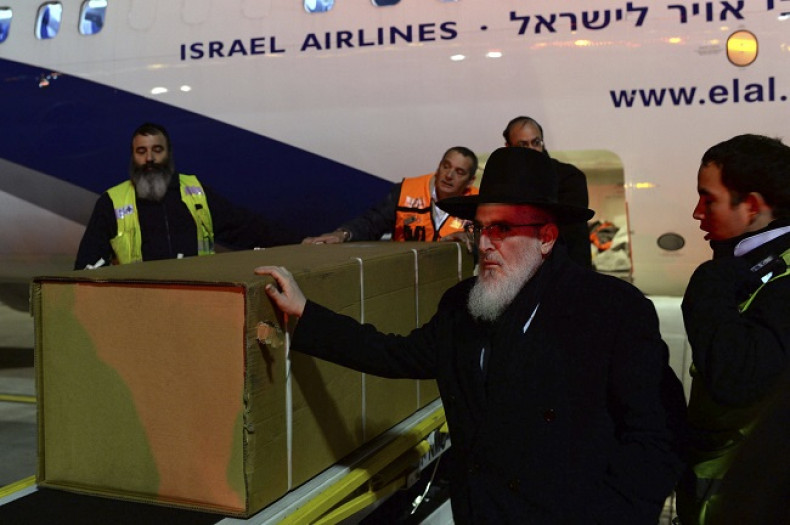 The bodies of four Jewish victims of a Paris terror attack on a kosher supermarket have arrived in Israel today ahead of their funerals due to be attended by Israeli Prime Minister Benjamin Netanyahu.
The killings of Yoav Hattab, 21, Yohan Cohen, 20, Phillipe Braham, 45, and Francois-Michel Saada, 6 by Islamic State jihadist Amedy Coulibaly, prompted calls from Netanyahu for Jews throughout Europe to immigrate to Israel.
The victims were killed in a tense hostage siege on Friday at a kosher supermarket in Porte de Vincennes, east of Paris. They were among 17 people who died as part of terror attacks last week.
12 people were shot dead – including four prominent cartoonists – at the headquarters of satirical magazine, Charlie Hebdo, after al-Queda gunmen stormed the building to avenge Prophet Mohammad. Jihadists Cherif Kouachi, and his brother Said Kouachi were later killed in a stand-off with police after taking over a print firm in Dammartin.
In a previous statement, Netanyahu said he had "acceded to the request of the families of the victims of the murderous terror attack" and directed "all the relevant government bodies" to bring the bodies to Israel.
Nearly 7,000 new immigrants came in 2014, double the number from the previous year, according to the Jewish Agency. Experts predicted at least another 10,000 Jews are expected to immigrate to Israel this year.
Netanyahu declared that Israel would welcome French and European Jews with "open arms" if they wished to emigrate to the country.
However, the president of Jewish community umbrella group CRIF, Roger Cukierman, said while he respected those who wanted to go to Israel, he believed it was necessary to fight the "enemies of Judaism" in France.