Paris attacks: US President Obama honours victims at Bataclan ahead of climate talks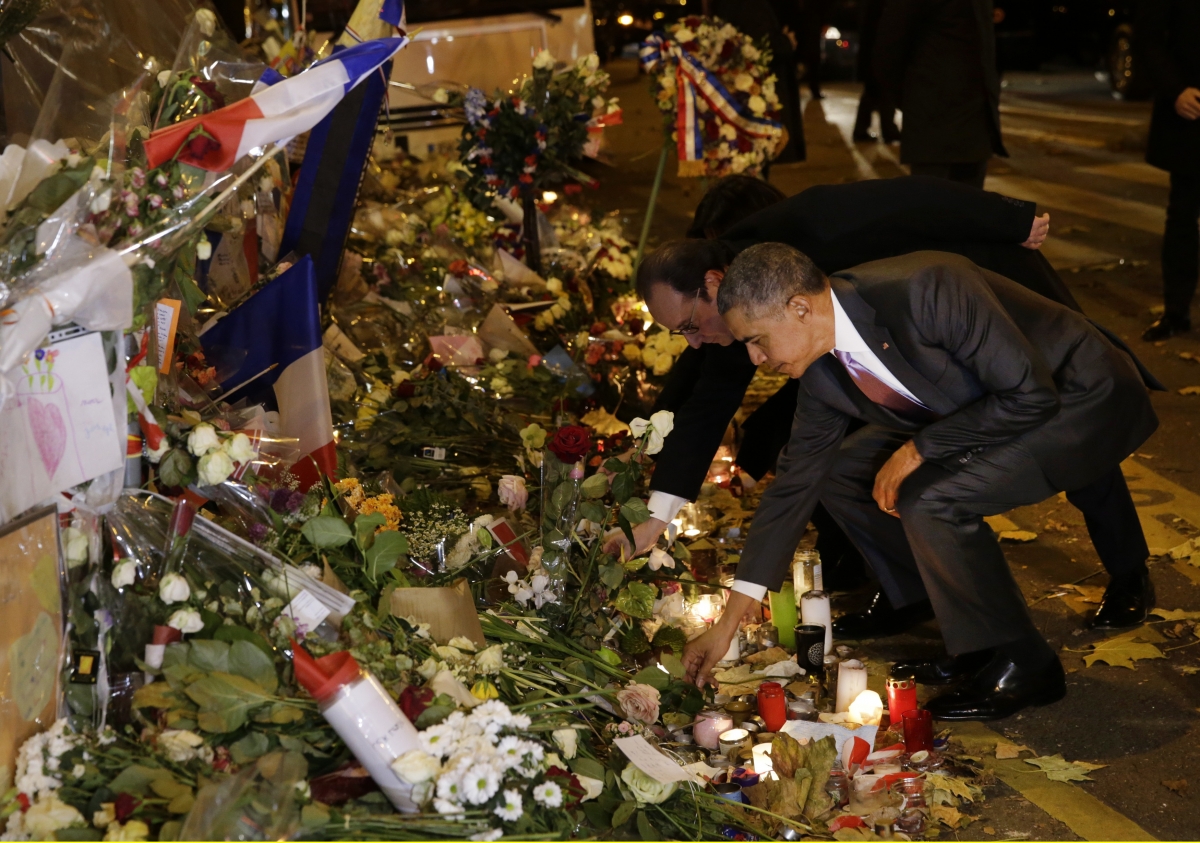 US President Barack Obama took an unexpected detour after landing in Paris just before midnight on 29 November for the World Climate Change Conference (COP21). Obama paid his respects to the victims of the deadly Paris attacks by visiting the makeshift memorial in front of the Bataclan concert hall.
Obama, accompanied by French President François Hollande and Paris Mayor Anne Hidalgo, reportedly stood for a moment of silence before laying a single rose as tribute. The three bowed their heads for the moment of silence in front of the memorial made up of candles and flowers set up by the concert hall where 89 people were massacred by Islamic State (Isis) terrorists. In total 130 people died in the deadly coordinated attacks on 13 November.
After honouring the victims, Obama left to prepare for the United Nations sponsored conference on climate change. According to CBS News, thousands took to the streets in central Paris to form a human chain along the route of a long-planned protest that was banned in light of the terrorist attacks.
While scuffles broke out between riot police and protesters on the Place de la Republique, environmental activists lined up shoes throughout Paris streets to represent their banned demonstrations. CBS News reported that Interior Minister Bernard Cazeneuve said 174 people had been jailed for possible charges and that another 26 were placed on house arrest. Protesters called the government out for imposing a state of emergency, calling it a "police state".
Paris Police Chief Michel Cadot told the media that authorities had identified between 200 and 300 people who had violated the country's ban on all protests under the state of emergency. Around 100 people who were found with projectiles or other suspicious objects were arrested, Cadot said.
Meanwhile, leaders appear to be more determined to agree on a global plan to slow down man-made climate change, particularly in light of the attacks, Bloomberg reported. "What a powerful rebuke to the terrorists it will be when the world stands as one and shows that we will not be deterred from building a better future for our children," Obama said on 24 November. Leaders will meet from 30 November to 11 December.
© Copyright IBTimes 2023. All rights reserved.