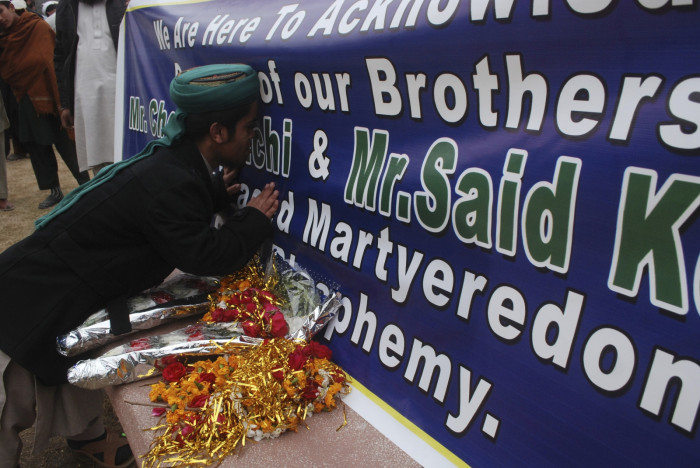 A Muslim cleric in Pakistan has led a funeral in absentia for the men responsible for last week's Charlie Hebdo massacre, calling the brothers "heroes of Islam."
Allama Pir Mohammad Chishti told mourners after the ceremony in a public park in Peshawar: "Today we feel so proud to attend the funeral of our brothers. They are heroes of Islam. They laid down their lives but eliminated those (who) published caricatures of our Prophet Muhammad."
As well as leading Ghousia Madrassa Chishti is a member of the Sunni Etehad Council, which is usually quick to denounce terrorism.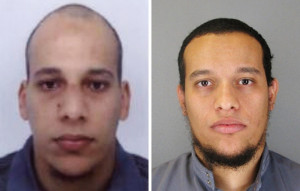 Despite widespread appeals by loudspeaker only 40-50 people attended the ceremony, organised by the Ghousia Madrassa. Many carried banners with slogans such as, "A strong message was needed. They delivered it."
Those present chanted slogans in praise of the killers and kissed posters bearing their face. The Kouachi brothers, they insisted, had "martyred" themselves for Islam.
One student at the Madrassa, Mohammad Rasheed Ahmad, told NBC: "We saw tens of thousands of people gathered in France to show solidarity with their slain men, but Muslims didn't come to take part in the funeral of the two heroes who did this great job."
Abdul Azziz, also from the Madrassa, said: "We invited all the Muslims to join us as the two brothers had taken stand on our prophet by killing the publisher and cartoonists."
Tomorrow's special "survivor's edition" of Charlie Hebdo will carry another provocative cover depicting the Prophet Mohammed, along with the words: "All is forgiven."
Despite the fact that any depiction of Mohammed is believed to be sinful in Islam, many of the comments at Pakistan's Tribune were scathing about the "funeral."
One contributor wrote: "Did this cleric know the brothers also killed a Muslim police man (along with all the others)?? for nothing! and they are kissing their posters??"
Another added: "If it were up to me, I would throw all of these people in jail. But, freedom of expression calls for me to tolerate them. Sigh."