One hundred and fifty aircraft passengers cheered as two women were escorted off an easyJet flight by police after they allegedly shouted 'Allahu akbar'.
The women had reportedly displayed "rowdy" behaviour throughout the two-hour flight from Prague to London's Stansted airport at 9.15pm on Valentine's Day.
A fellow passenger captured the scene on video as police boarded the plane and removed the women telling them: "I'm sure these people have had enough of this."
Thomas Hayward, 25, who had been on a romantic break to the Czech Republic with his girlfriend Megan Nisbet, 25, recorded the footage on his mobile phone.
Mr Hayward, a teacher from Twickenham, southwest London, said: "The flight was only an hour and a half but felt like forever. The two girls were sitting next to the emergency exit and were causing all sorts of dramas.
"They were being really loud, having strange conversations at the top of their lungs and refusing to be quiet. At one point they even shouted Allahu akbar - despite being two white British girls. Everyone on the flight sat quietly, but you could tell everyone was getting more and more annoyed.
"It was quite late at night and the flight attendant had told them if they didn't stop being disruptive we might not be allowed to land."
Police were waiting to greet the two girls when the plane landed.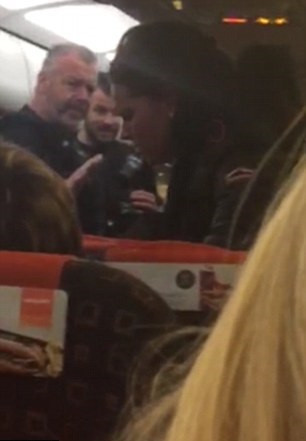 Mr Hayward continued: 'When we landed, the pilot asked everyone to stay seated. But the first two to stand up were those two girls despite the seatbelt sign still being on. They kept saying that they thought people would steal cigarettes in their bag.
"But then the police came on the flight and everyone started cheering. A hundred and 50 people were happy to see them being taken away. The whole plane was delighted."
Despite their alleged anti-social behaviour police let them go home after giving them a warning, Mail Online reports.
A police spokesperson said: "Essex Police were contacted at 9.15pm on Tuesday February 14 following reports that two passengers were being disruptive on a flight arriving from Prague. Officers attended the incident and spoke to two female passengers. No-one was arrested."
An easyJet spokesperson said: "EasyJet can confirm that flight EZY3068 from Prague to London Stansted on 14 February was met by the police on arrival as a result of a passenger onboard behaving in a disruptive manner. The passenger [sic] was escorted away by the police.
"Whilst such incidents are rare we take them very seriously and do not tolerate abusive or threatening behaviour onboard."