The former deputy head of a leading independent Catholic school has been jailed for just over two-and-a-half years after pleading guilty to possessing hundreds of child porn images and the illegal drug ecstasy (MDMA). Peter Allott, 37, taught at the prestigious £15,000-a-year St Benedict's Catholic Independent Day School in Ealing when he was targeted by officers from a child abuse unit.
His arrest in December 2015, which saw his phone and hard drive confiscated, came following intelligence that an individual had been using video conferencing facilities to share indecent images of children with others around the UK. He was found with more than 200 illegal child abuse pictures and videos in his possession.
Allott, of Marchwood Crescent in Ealing, appeared at Blackfriars Crown Court on Thursday (5 May) where he was sentenced to 33 months in prison. He had admitted three charges of possessing, showing and making indecent images of children, one charge of possessing extreme pornography and another of possession of the class A drug ecstasy at a court hearing in March.
Matt Sutton, from the National Crime Agency, said: "Every indecent image of a child is an image of a child being abused. Peter Allott had images of the worst category in his possession and it is appropriate that he is now serving a custodial sentence.
"While there is no evidence that Allott abused his position of trust at his place of work, we consider he posed a significant risk due to nature of the images he was sharing.
"We will continue to identify individuals who think they can share indecent images of children under the radar of law enforcement, and ensure they are brought to justice".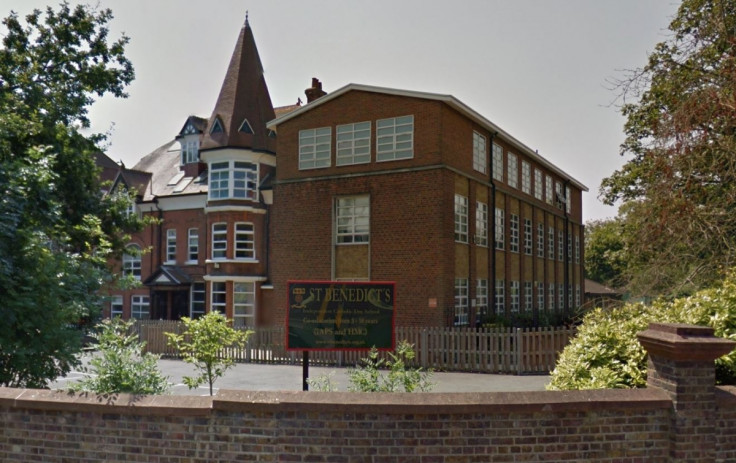 St Benedict's will hope to draw a line under the scandal as it tries to restore its damaged reputation. In 2009, its former headmaster David Pearce was jailed for eight years for abusing five boys over a period of 36 years.
The school and its linked Benedictine monastery, Ealing Abbey, were then criticised in a 2011 report for a "lengthy and cumulative failure" to protect pupils in its care. The scandal, unconnected to Allott, led to five monks and three former teachers being linked to child abuse.
In 2010, another former teacher, Laurence Soper, was arrested on child abuse charges, but skipped bail. He remains on the run and the subject of an international arrest warrant.
A statement issued by St Benedict's School at the time of Allott's guilty plea said: "St Benedict's has been shocked and saddened by the offences committed by Mr Allott. He has already resigned from the school and will not be returning to it.
"We would reiterate that there remains no evidence any pornographic material was found on school computers or that any other members of the school community have been involved in or exposed to the material that Mr Allott was using.
"The school believes that our robust safeguarding policies, and high-level IT filtering and monitoring facilities, have significantly reduced the risk that any pupils could have been subjected to. Our primary concern has always been, and remains, that all of our pupils can attend school and study in a place of complete safety for them."