Avid iOS jailbreakers can now customise Cydia's user interface (UI) and functionality, using a plethora of Mobile Substrate based jailbreak tweaks such as the Pheromone.
The Pheromone tweak is the creation of HASHBANG Productions, which is aimed at improving the overall user experience with the addition of new features, such as the ability to add brown tint to match Cydia's icon colour with the overall UI on the app including all the buttons in the Navigation bar and the Tab bar.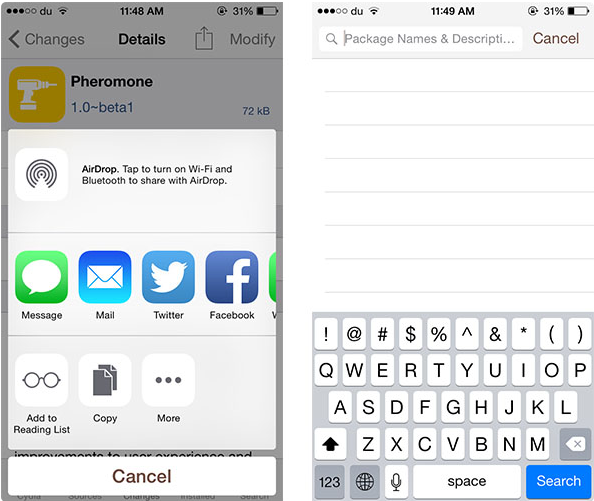 Among other noteworthy features, Pheromone adds a Cancel button to the search bar, besides a new Share button to the tweak's description page, which allows users to share any information about the tweak with friends via third-party apps such as Messages, WhatsApp and Mail.
The virtual keyboard on Cydia now supports gesture based inputs such as swiping down the screen to dismiss the keyboard, while the HUDs support a blurred background.
The Pheromone tweak reportedly enhances security in Cydia by throwing up a warning message when certain repos with non-HTTPS URL links are being added.
As this tweak is still under development (beta stage), it is currently unavailable for download via default Cydia repos. Instead, you need to add the following source: http://cydia.hbang.ws/ to Cydia, and then access the download link (add the source > go to Search tab and then search for the tweak with its name).
If you are still sceptical, just check out the demo video from the folks at iPhone Hacks, which shows how themes and tweaks can customise the look and feel of Cydia:
[Source: iPhone Hacks]