Drug users who want to avoid becoming another bloody casualty in Philippines leader Rodrigo Duterte's war on narcotics have been making coffins as part of one local rehabilitation programme.
Addicts in the city of Olongapo, three hours to the north of the capital Manila, are taught to make coffins after they hand themselves over to authorities. In the Philippines, where more than 3,600 people have been killed since Dutere's election in June, the process is known as 'surrendering'.
The macabre irony of the programme is not lost on those who enrol in it. "I knew that if I don't change, I will be in one of those caskets," one 44-year-old man, who declined to be named, told Reuters in a small workshop where nine other former drug users were working on coffins.
In Olongapo, drug users are taught carpentry and paid 5,000 Philippine pesos ($103, £83. €92) a month to build the coffins in the programme which is run by the local government.
The simple wooden objects are made of plywood and painted white. The local government has said they are given to the poorest families in the area who are unable to afford them and other funeral services.
A recent internal poll released on Thursday (6 October) has shown a majority of Filipinos support Duterte's war on drugs.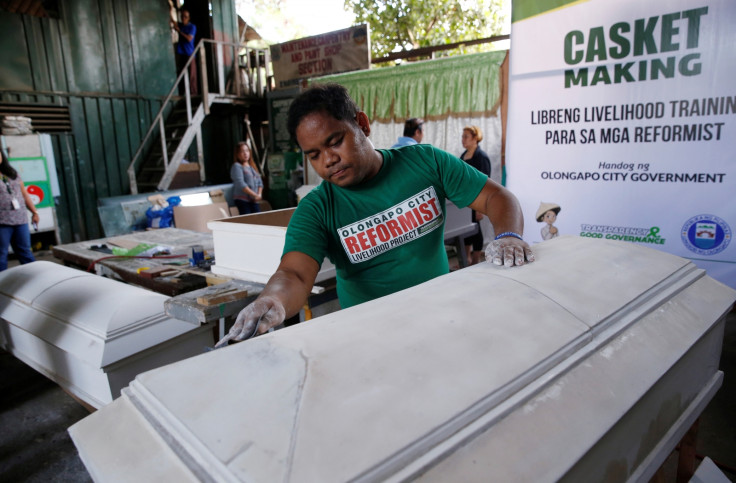 The poll by Social Weather Stations (SWS), involving face-to-face interviews with 1,200 adults across the Philippines, gave Duterte a net satisfaction rating of 64%, according to media reports.
Duterte has said he himself is pleased with the war despite the deep internal divisions it has created and the mounting criticism from the international community.
The drug war, which has been criticised by the US, the UN and humanitarian groups has strained relations between the Philippines and the United States. In the past the US had been Manila's principle military ally. Duterte has looked increasingly towards Russian and China to back him amid warnings from Washington.