Puppet shows, a comic book and even a dancing mascot will be used by the Philippine National Police to explain new President Rodrigo Duterte's war on drugs campaign to schoolchildren.
At the Police Community Relations Group's anniversary celebrations in Camp Crame, Quezon City, its director Senior Supt Gilbert Cruz said that a unit has been set up to carry out an anti-illegal drugs road show in schools and villages.
The campaign will feature puppet shows, a new police mascot called P01 Bato, the distribution of pamphlets and a comic book authored by Cruz. At the celebrations, the mascot gave a sneak preview of what the campaign will entail — including a dance performance not to be missed.
In addition, a puppet show modeled on President Duterte will also be featured. "On top of priorities and projects targeting schoolchildren and the youth, is eliciting their interest and appreciation of programmes relative to the PNP's anti-illegal drug campaign; opening their eyes and ears to the ill-effects of illegal drugs and the menace that they post to their families and societies," Cruz said, according to the Inquirer.net.
Cruz said in an earlier interview with journalists: "From the records I've seen, we have 8-year-old children being used in the illegal drug trade to sell drugs .... Aside from that we also catch teenagers in pot sessions, who are now also users of illegal drugs."
According to the police's public information office, a total of 395 people have been killed in anti-narcotics police operations since 1 July 2016. A total of 5,251 arrests were made and 545,589 illegal drug users have surrendered, the data revealed.
Duterte's war on drugs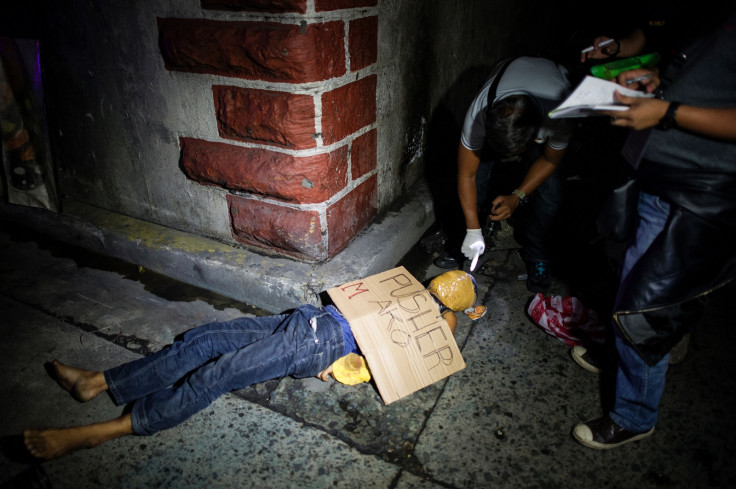 Since Duterte took over as President on 30 June, an estimated 320-544 people have been killed by vigilante groups and police. His brutal crackdown on the drugs trade has led to his nickname "Duterte Harry" or "The Punisher"
Citizens are now getting used to seeing bodies lying on the street, often draped in cardboard placards with the words "pusher" on them.
Late last month, a 22-year-old choirgirl was executed and her body dumped in a backstreet after she was accused of being a drugs dealer. Rowena Tiamson's body was found with her hands tied, and her eyes and mouth were covered in tape. There was a bullet wound to her head.