A lone cyclist twice gave Donald Trump the middle finger as he cruised by in his presidential motorcade.
Unperturbed by the bombastic billionaire travelling with full security detail from the Trump National Golf Club in Virginia the woman made her feelings about Trump clear.
And still dissatisfied by flipping the bird at the embattled president the cyclist caught-up with the cavalcade a second time and repeated the gesture on Saturday (28 October) .
The woman's disdain for the US commander-in-chief was captured by photographers and recorded in the official White House pool report.
The report noted: "POTUS's motorcade departed the Trump National Golf Club at 3.12pm, passing two pedestrians, one of whom gave a thumbs-down sign. Then it overtook a female cyclist, wearing a white top and cycling helmet, who responded by giving the middle finger.
"The motorcade had to slow and the cyclist caught up, still offering the finger, before turning off in a different direction. Motorcade is now gathering speed and heading for DC."
The incident occurred on the outskirts of Washington DC close to the golf club where Trump has spent four consecutive weekends, the report adds.
Although Trump took pleasure at criticising Barack Obama for playing golf while he was president this was the 76<sup>th day he spent at golf clubs since his inauguration, it was reported.
Steve Herman, bureau chief of Voice of America News, tweeted the pool report after he spotted the woman making the rude gesture.
He wrote: "I just saw this happen as we left the Trump golf course in Sterling, Virginia."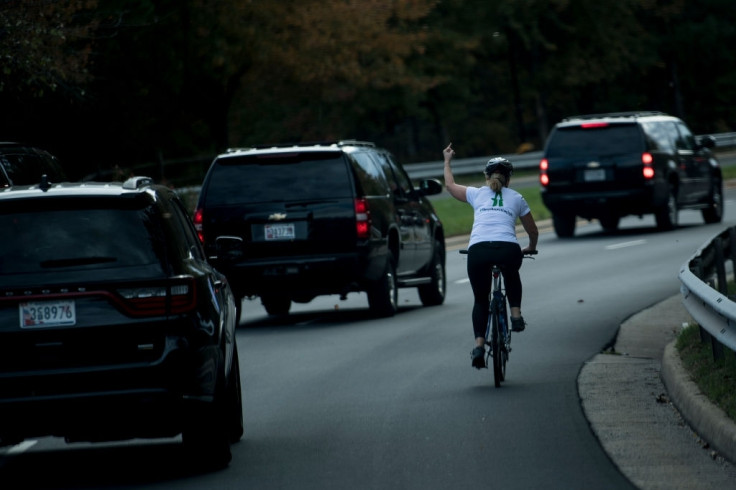 The incident comes as Trump's approval ratings dipped to an all-time low among the American public. The latest poll puts Trump at 38 per cent, dropping a full 10 points since his inauguration ten months ago.
As of yet the female cyclist has yet to be identified and no footage of the incident has been released.