A picture appearing to show the body of a 16-month-old boy lying face down on a river bank is highlighting the plight of Rohingya Muslims who are fleeing alleged persecution in Myanmar. The boy is believed to be Mohammed Shohayet, a Rohingya refugee who died as his family was fleeing their home to reach Bangladesh.
The boy's father, Zafor Alam, said that Mohammed drowned during the journey along with his mother, uncle and three-year-old brother.
The family died as they were trying to cross the Naf River, which runs between Myanmar and Bangladesh.
Alma had already reached Bangladesh ahead of his family.
"When I see the picture, I feel like I would rather die," he told the CNN. "There is no point in me living in this world."
"In our village, helicopters fired guns at us, and the Myanmar soldiers also opened fire on us," he continued. "We couldn't stay in our house. We fled and went into hiding in the jungle. My grandfather and grandmother were burnt to death. Our whole village was burnt by the military. Nothing left."
IBTimes UK has so far been unable to independently verify Alam's account. In a written response to the CNN, Aye Aye Soe, Myanmar government spokesperson, deemed the man's testimony as "propaganda" and "false."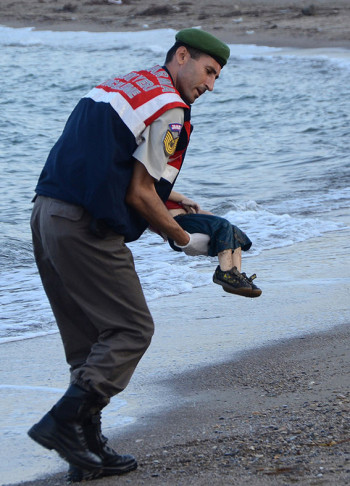 Some people have compared the picture with the one of Syrian refugee boy Alan Kurdi, whose body was recovered on a Turkish beach in September 2015. Alan drowned as his family was trying to flee civil war at home.
Persecution of

Rohingya

Muslims
The 1.3 million Rohingya in Myanmar (also known as Burma) are regarded as stateless people and unwelcome migrants from Bangladesh. They live in segregated conditions in Rakhine state. They have been dubbed by the United Nations as one of the world's most persecuted ethnic minorities.
In October, government troops were deployed to Rohingya villages in Rakhine following a series of coordinated and deadly attacks on police border posts, which the government blamed on sympathisers of the minority Rohingya.
Shortly afterwards, Human Rights Watch (HRW) released images purportedly showing 1,250 destroyed buildings in three villages in the Rakhine.
The rights group accused government forces of raiding Rohingya villages and carrying out extrajudicial killings, and called for a UN-assisted investigation. Bangladesh has reinforced its border posts in a bid to stem the high refugee influx. However, thousands have managed to cross into the country in recent weeks.
Myanmar's new administration, led by Nobel Peace Prize-winner Aung San Suu Kyi, has dismissed the allegations of violence against the Rohingya and accused international media of misreporting the situation in Rakhine.
The president's spokesman, Zaw Hitay, accused HRW of exaggerating the figures of destroyed buildings, with the government claiming fewer than 300 houses had been destroyed. A government-appointed commission said in its interim report released on 4 January that the anti-terrorism crackdown in Rakhine has not resulted in a "genocide" of Rohingya Muslims.
The panel also refuted allegations of abuses by security forces, but authorities are still investigating alleged police abuses following the emergence of a video appearing top show Rohingya Muslims being tortured at the hands of security forces.
Human right groups have accused the panel of "whitewashing".