Pig's head dumped outside mosque in Northern Ireland Islamophobic attack
Islamophobic incidents have risen in the UK since the Manchester and London Bridge terror attacks.
A pig's head was dumped on the doorstep of an Islamic centre in Northern Ireland last night (24 August). Police are treating the incident in Newtownards, County Down, as a hate crime.
The wall of the Muslim centre was also daubed with graffiti, police said in a statement. Hours later, a second building in nearby Castle Street was graffitied in another hate incident.
Chief Inspector Hazel Reid said in a statement: "At approximately 11:15pm last night it was reported to police that a pig's head had been placed on the doorstep and graffiti painted on a wall of a building.
"Shortly after 1am, it was reported that graffiti had also been painted on the wall of a building in the Castle Street area. Both these incidents are being treated as hate crimes.
"A police investigation is underway and we would appeal to anyone with information about either incident to contact police in Newtownards on 101, quoting references 1726 of 23/08/17; 63 of 24/08/17, or call Crimestoppers on 0800 555 111."
Islamophobic hate crime has risen sharply in the UK during the last five years. In addition to the general upward trend there has been spikes in the aftermath of domestic terror attacks.
There was a 40% rise in Islamophobic incidents in London in the aftermath of the London Bridge attack and a 500% rise in Manchester after Salman Abedi detonated a bomb in the MEN Arena as young fans exited an Ariana Grande concert.
Sending or delivering pork products to mosques is a common tactic used by people wishing to insult or intimidate Muslims, who do not eat pig's meat.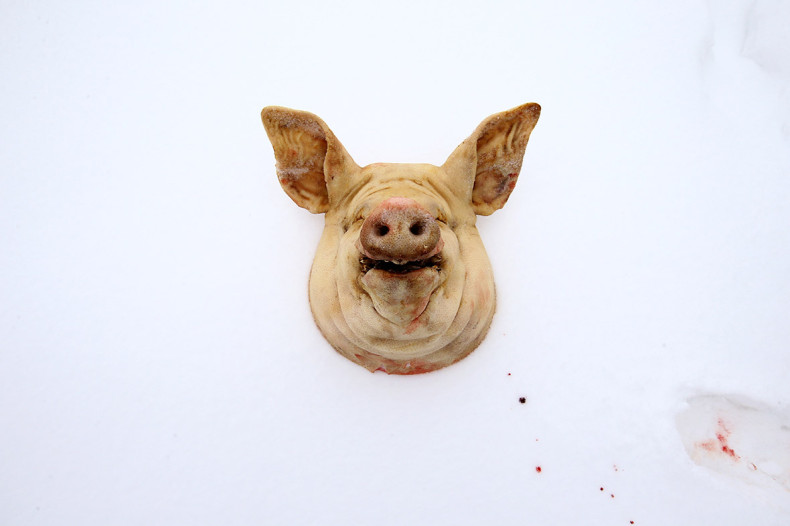 In July a middle-aged white woman from Texas sent a Quran immersed in a tub of pork lard to a Muslim organisation in California.
In May body parts belonging to dead pigs were impaled on wooden stakes at the proposed site of a mosque in Germany.
The use of an entire pig's head is rarer than that of bacon or supermarket pork products. However, in December 2015 the severed head of a pig was found lodged in the toilet next to a Muslim prayer room at the University of Western Australia