Investigation into a gun parts smuggling gang in the Philippines has revealed a plot to assassinate President Rodrigo Duterte. Wilford Palma, who was arrested in August, said their "number one customer" had ordered gun parts enough to build 100 M-16 rifles and was planning to kill the president.
Philippines National Police chief director general Ronald dela Rosa said they believe the buyer does not belong to the group planning the alleged assassination of the president, but was tasked to merely procure gun parts.
Presidential spokesman Ernesto Abella said Duterte is "untouched by all these threats" and that he "eats" such threats for breakfast. "Not worried. Concerned, but not worried," he was quoted by the Philippines' ABS-CBN news network as saying. Abella added that the president will not cut down on his provincial trips due to the alleged threat.
Palma and his boss Bryan Ta-Ala were both arrested on 6 August in Bacolod City after the Philippines police's Criminal Investigation and Detection Group received information from the US Homeland Security via the Bureau of Customs. Police also seized smuggled gun parts worth 4.5m Philippines peso (£73,278, $96,367) from them that they illegally brought from the US.
Palma told a press conference that their top buyer had ordered 100 upper receiver parts, 40 barrel, and 30 bolt assembly which could have assembled into 100 M-16 rifles. He said the order was placed before their arrest, adding that he would not have disclosed the assassination plot if he were not under police custody, GMA News reported.
Chief Supt. Roel Obusan, head of the Criminal Investigation and Detection Group, told reporters that they will validate Palma's allegations and also consider him a witness in the case. Palma's boss is currently in an intensive care unit of a hospital in Bacolod due to hypertension, police said.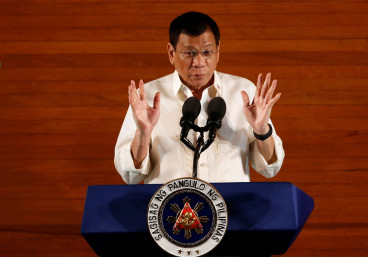 Police said at least 23 people, who are said to be involved in the transactions with Palma and his boss, have agreed to cooperate with the investigation into the shipment, trading and selling of smuggled gun parts. The 23 include nine people, who voluntarily surrendered or appeared before the Major Crimes Investigation Unit.
Palma reportedly admitted to the police that their group has been operating for two years and have so far smuggled more than 10 boxes of contraband from the US. He added that they deliver their shipments to different customers across the country through local courier services. Palma said the smuggled gun parts are also sold online on the website Pinoy Pistol Forum.