The masterminds of the UK's biggest-ever gun smuggling racket have been jailed on 3 June for secretly importing weapons and ammunition into London.
Harry Shilling, 25, of Swanley, Kent, and Michael Defraine, 30, of Bexleyheath, were found guilty at the Old Bailey for planning to ship 22 AK-47-type weapons and nine Skorpion sub-machine guns into Orpington in Bromley.
Some of the weapons were bought from the same Slovakian gun dealer used by Isis-inspired terrorists in the Charlie Hebdo and Hyper Cacher massacres in Paris in November 2015. The £100,000 haul contained 31 automatic weapons, more than 1,500 rounds of ammunition, two silencers, and 58 magazines.
Sentencing Shilling to 30 years in jail, plus five years on extended licence, and Defraine to 27 years in jail, plus five years on extended licence, judge Michael Topolski QC said the weapons could have caused carnage on UK streets in the wrong hands.
The pair, along with five other gang members, were arrested in August 2015 after a boat sailed from Boulogne, France, with the armaments. Defraine and Shilling were detained by armed National Crime Agency officers outside a DIY store in Orpington, where they bought spades and pick-axes to bury the weapons.
During the trial, it emerged Shilling paid as little as £38 each for the firearms, which he stood to sell on for as much as £250,000. He was described as "Keyser Soze", the fictional super villain from the 1995 film The Usual Suspects. They bragged they were "officially gangsters" when the arms arrived in south London.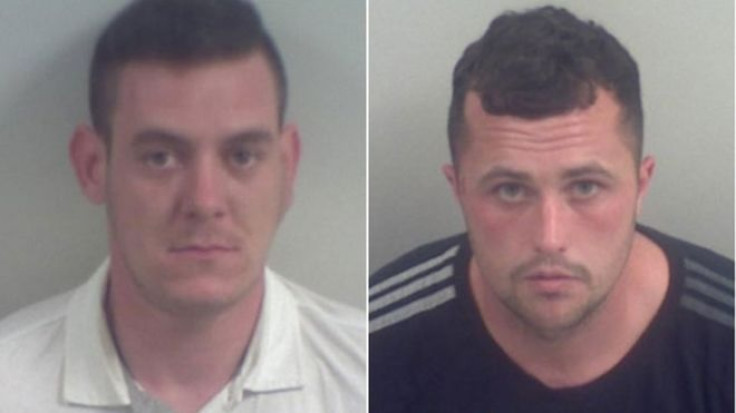 Three other members of the gang - David Payne, 43, Richard Rye, 24, and Christopher Owen, 30 - had already pleaded guilty and were sentenced to 44 years in total as well as five years on extended licence each.
John Smale and Jennifer Arthy were both found not guilty at an earlier court appearance of importation of firearms and conspiracy to possess firearms with intent to endanger life.