Such has been the popularity of the immersive smartphone game Pokémon Go and the ubiquity of users glued to the app as they go about their daily lives, the US Holocaust Memorial Museum and Arlington National Cemetery have asked players to stop catching Pokémon at the sites.
In the augmented reality of Pokémon Go, museums, churches and other public buildings act as "Pokestops", locations where players can get free items. The Holocaust museum in Washington DC has been designated one such area and users say the cemetery also contains Pokéstops.
After only one week of the game's arrival on screens, museum curators across America, and at the US Holocaust Memorial Museum have said they are already aware of the worrying trend, the Washington Post reported. They are now working to have the location removed from the game.
In a statement, communications director for the Holocaust museum Andrew Hollinger said playing the game inside a memorial to victims of the Nazi regime was "extremely inappropriate".
In one particularly inappropriate image circulated online, one user captured the moment a Koffing Pokemon appeared in the Museum's Helena Rubinstein Auditorium. The monster, which emits poisonous gas, was seen in the room alongside the testimony of survivors of Nazi concentration camps where millions of Jews died in gas chambers.
Hollinger was quoted as saying the museum is concerned about the Koffing appearance but there is a possibility it was a hoax. The original picture has been removed from the photo-sharing site imgur.
Arlington cemetery is making a preventative move against the game. "Playing games such as Pokemon Go on these hallowed grounds would not be deemed appropriate," cemetery officials said in a statement.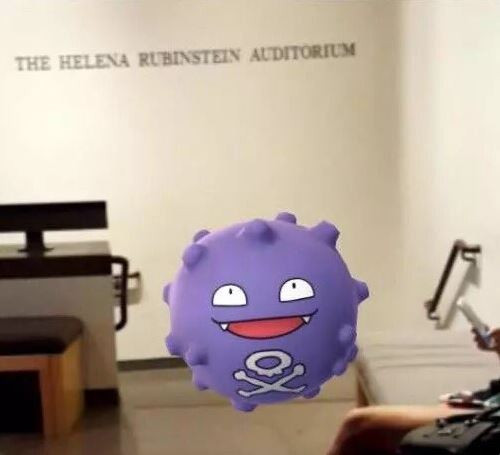 Pokémon Go has already revolutionised app gaming. A player customises their character and enters the world. Their avatar walks through a simple map depicting the roads, alleyways, parks, rivers and other open spaces of the real world and, as is tradition, the player gets to choose a starter Pokémon. Charmander, Squirtle and Bulbasaur appear around the player; tap one and you'll enter the capture phase.
Players are informed when a Pokémon is nearby, with both a distance marker and a rustle of grass on the map. You can go investigate, but other times they'll just spring from nowhere, causing your device to vibrate.