A young thug has been taught a humiliating lesson after he was caught shooting fireworks at a wheelchair user. A policeman collared the boy, who cannot be named for legal reasons, and forced him to write an apology to the vulnerable victim – and personally deliver it.
The little rascal was one of many youths playing dangerous games with fireworks in Ashton, Manchester, on the evening of 17 October. Their high-jinks took a malicious turn when they started aiming the pyrotechnics at a man in a wheelchair.
The bombardment was so intense he was unable to return home, and became stranded in the chilly autumn evening. Eventually, he managed to flag down a neighbourhood police officer, who went to investigate.
PC Beswick cleared the youths and was able to escort the man home safely. The part-time policeman was returning to his vehicle when the brazen gang ambushed him with yet more fireworks.
However, the brave constable weathered the storm and even managed to catch one of the teenage menaces.
The juvenile was handed a Restorative Justice Order and forced to pick up litter around the estate by way of penance. He also had to write a letter of apology to the wheelchair man and deliver it to him under the supervision of PC Beswick.
Greater Manchester Police Tameside publicised the incident on their Facebook page. They also uploaded a photo of the fireworks being deployed by unruly youngsters in the area.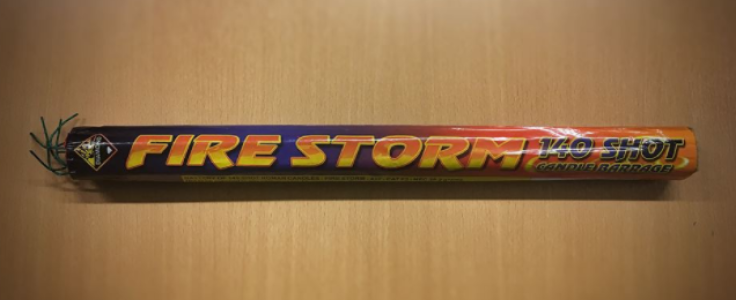 The "Fire Storm" branded packages claim to shoot 140 potentially life-changing shots each. The packs can be held by someone and "aimed" in any direction they please.
With Bonfire Night just around the corner, police across the UK will be concerned about explosives finding their ways into underage hands.
"Misuse of these fireworks puts both the user and members of the public in danger and we are asking members of the public to remain vigilant and we are asking retailers to be wary of selling usual amounts of these fireworks," a spokesperson for GMP said.
"If you are aware of retailers that are selling fireworks illegally or have any information which can help ourselves identify any offenders who are using fireworks to causing ASB then please contact ourselves on 101 or via the independent charity Crimestoppers for free on 0800 555111 or you can report information online via their website"