A police officer and a wanted man he was chasing were killed after exchanging gunfire in New Mexico, say authorities. Officer Clint Corvinus, 33, of the Alamogordo Police Department, was pursuing the heavily-tattooed Joseph Moreno on 2 September.
Police say that Corvinus was on a routine foot patrol with another officer when they came into contact with the 38-year-old. After a brief chase, the officers exchanged gunfire with Moreno, who was shot in the head and died at the scene.
But Corvinus also suffered gunshot wounds and despite being rushed to a nearby hospital, he was pronounced dead. It has not been revealed why the two officers were chasing Moreno in the small desert town.
"Officers made contact with Mr Moreno, a foot pursuit resulted from this contact," the police department said. "At some point during the foot pursuit, shots were fired. The suspect was pronounced dead at the scene."
Since the shooting, police say that Moreno, who had distinctive face tattoos, had a criminal history that included the possession of a deadly weapon, aggravated residential burglary and escape from custody. He also had three active arrest warrants.
Corvinus had been at the police department for four years and had one daughter and a girlfriend. New Mexico Governor Susana Martinez reacted to the news on Friday saying she was "saddened" by the officer's death in a statement.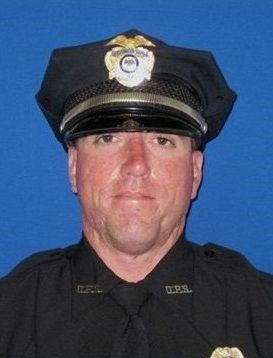 "I am again so very saddened to see that yet another courageous law enforcement officer has been killed in the line of duty. I ask all New Mexicans to keep this brave officer's family and friends in their thoughts and prayers.
"The violence against our police officers has to end, and we must do everything we can to stand up for those who put their lives on the line every single day to protect us," she continued.
In the same state three weeks ago, Officer Jose Chavez was shot dead during a traffic stop in the small town of Hatch, around 75 miles east of Alamogordo. Three suspects were arrested in that shooting and remain in custody.
In a post on Facebook police said: "The Las Cruces Police Department extends its collective thoughts and prayers to family and friends of Alamogordo Police Officer Clint Corvinus who died today in the line of duty. The men and women of LCPD offer our sincere and deepest condolences.
"Today, like always, we stand with our brothers and sisters in blue from Alamogordo. God be with you today and always."