A crowd of demonstrators took to the streets in London to join the women's march on 21 January, one of 673 events held across the world calling for the protection of women's rights.
Effectively, the march in the British capital began before it even started, as demonstrators flooded Oxford Street and nearby roads in an attempt to make their way to Grosvenor Square, where demonstrators were gathering ahead of the march.
Labour MP Stella Creasy, who was supposed to give one of the speeches before the march set off, could not make the beginning of the march as the nearby London underground stations of Bond Street and Oxford Circus were overcrowded with people trying to join the march.
According to the march organisers, there were as many as 100,000 people, more than double the 41,000 who clicked on attend on the march's Facebook event.
"We were told to expect just a few thousand," a security officer told IBTimes UK as he guarded one of the streets bordering Grosvenor Square, where the US embassy is located.
In the middle of the march, one could not see its beginning nor its end.
Once the march reached its destination in Trafalgar Square, the whole of the square's 12,000m sq (130,000ft) quickly filled up with a colourful and diverse crowd of demonstrators from different walks of life, different countries and different generations.
"Thank you for coming to the march with me," a woman told her two-year old daughter, "I'm so proud you are growing up to be a feminist".
The organisers' intention of displaying unity and diversity in standing up for women's rights and human rights all over the world was successful. The march presented a platform to give a voice to a variety of causes and beliefs at a time where many fear that the products of hard-fought battles for equality are under threat.
"Not the church, not the state, women should decide their fate," sang women marching behind a banner in support of abortion rights in Ireland, both the Republic of Ireland and Northern Ireland.
Around a thousand women from the Women's Equality Party joined the march too. Speaking to IBTimes UK, party leader Sophie Walker explained their priorities: "We reject any policy that normalises sexual assault and harassment, we demand an end to violence against women.
"We demand an equal Britain under Brexit in which we work together for equal rights, equal pay, affordable childcare, trade deals that bring jobs for women as well as for man and we are working for an equal immigration system that re-imagines the value that women can bring to this country and that also takes down the very specific barriers that we put to female migrants that come to seek opportunities here."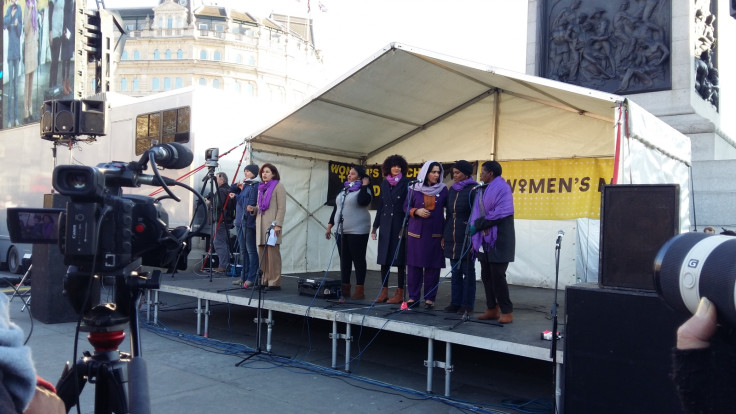 From the stage in Trafalgar Square, Natasha Walker, director of Women for Refugee Women, asked the crowd to stand up for the women who do not have a voice. The square replied with a huge roar of approval.
A unifying point among the different causes was the opposition to the 45th US President, Donald J Trump, and it was no coincidence that the march was organised on his first full day in office.
"Trump's campaign slogan should have been to 'make men great again'. It was a very macho campaign," English artist Grayson Perry CBE told IBTimes UK.
Perry's latest work focused on examining the idea of masculinity in the 21st century. He said: "I've called my book The Descent of Men because it's about bringing men to a level of equality. A lot of men play the victim because their privileges are being taken away, but it is only just."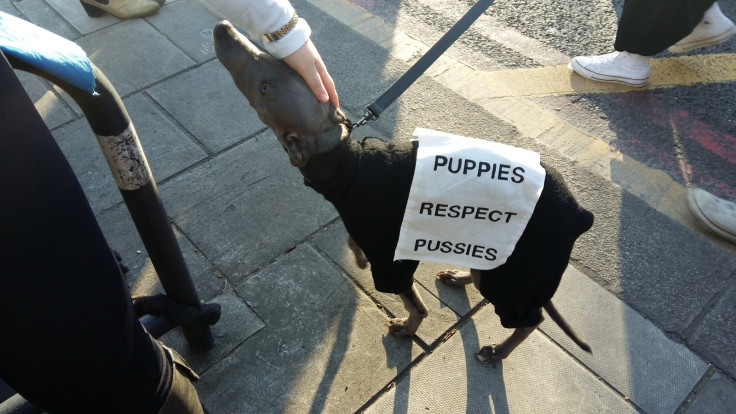 A large majority of the banners held in the march were dedicated to Trump. Some reclaimed Democratic presidential candidate Hillary Clinton's campaign slogan: "Love trumps hate", others simply stated "Dump Trump", others still made references to the tape in which Trump boasts about grabbing women without waiting for their consent. "Grab them by the patriarchy", "Pussy grabs back" and "Vaginas say you're fired" some of the banners read.
"Grab them by the patriarchy", "Pussy grabs back" and "Vaginas say you're fired" some of the banners read.
The demonstrators, chanting slogans demanding Trump's resignations, sent the new president a clear message that his remarks about "nasty women",immigrants, building walls, and doubting climate change would not be forgotten, nor forgiven.