The survivor of the deadly stabbing on a Portland train is standing by his decision to stand up for two African-American girls being verbally attacked by a man.
Micah Fletcher is one of three men stabbed on the Oregon commuter train by a man who vented a racist tirade at two girls, one of whom is Muslim and was wearing a hijab.
Fletcher, who was stabbed in the neck, survived the incident but 23-year-old Taliesin Myrddin Namkai-Meche and 53-year-old Ricky John Best were killed.
"It was the right thing to do," 21-year-old Fletcher told CNN affiliate KPTV on Tuesday (30 May). "I'm not a hero, nobody special. I'm a kid from Portland."
Fletcher also wanted the teenagers involved to know that "none of this is in any way their fault and that the world is a very cruel place sometimes".
The 21-year-old noted that people need to stand up for one another, CNN reported.
"If you live here, move here, or if you want to call this city home, it is your home," Fletcher told ABC News. "And we must protect each other like that is the truth, no matter what the consequences."
He said he wants the Muslim community to know that he and others will stand by them. "The Muslim community, especially in Portland, needs to understand that there are a lot of us that are not going to stand by and let anybody—whether they are from here or not—scare you into thinking you can't be a part of this town, this city, this community, or this country," he added.
Fletcher choked up during his interview with KPTV when he spoke of the two men who died. "I want the families of those two men [to know] that their children are heroes," he said. "They will always be loved in the eyes of this city."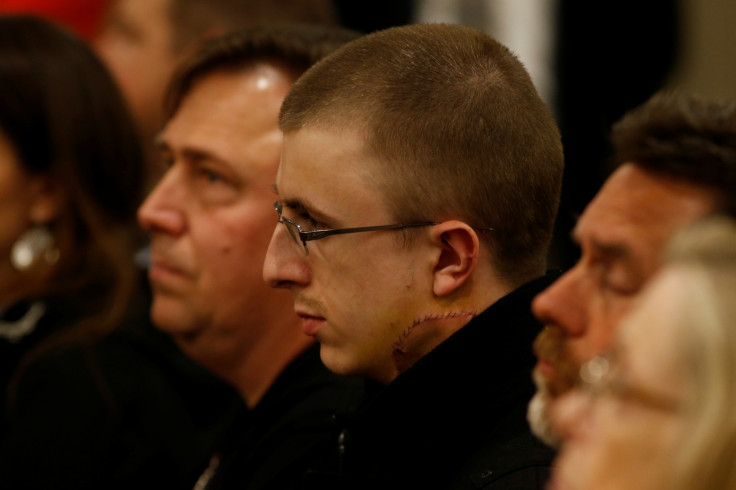 The three men will be honoured on Friday (2 June) during a minute's silence on Portland's public buses and trains, the city's TriMet transportation announced. "May their sacrifices always be remembered, and their courage inspire unity and healing," TriMet said in a Facebook post.
Fletcher was in court to watch 35-year-old Jeremy Joseph Christian make his first court appearance on Tuesday (30 May). Christian shouted as he appeared in the Portland courtroom: "You call it terrorism; I call it patriotism. You hear me? Die."
The incident occurred on Friday (27 May) after Christian boarded a MAX light rail train at 4.19pm and shouted at the two teenagers "Get the f*** out!, go home. We need Americans here!"
One of the teenagers, 16-year-old Destinee Mangum, said Christian "told us to go back to Saudi Arabia," and that "we should just kill ourselves". The girls then moved to the back of the train. Several men intervened and a fight ensued.
Video from train security and passengers' cell phones show how the scuffle quickly turned into a one-sided knife fight. Fletcher was stabbed first in the neck then Namkai-Meche was stabbed twice, also in the neck. Best attempted to intervene and was stabbed in the neck.
The affidavit said Christian then pushed Best into Namkai-Meche and stabbed both men again. Fletcher managed to exit the train and get help on the platform. Meanwhile, Christian ran off, threatening people on his way. He was arrested shortly afterwards. Namkai-Meche and Best died of multiple stab wounds, according to the affidavit.