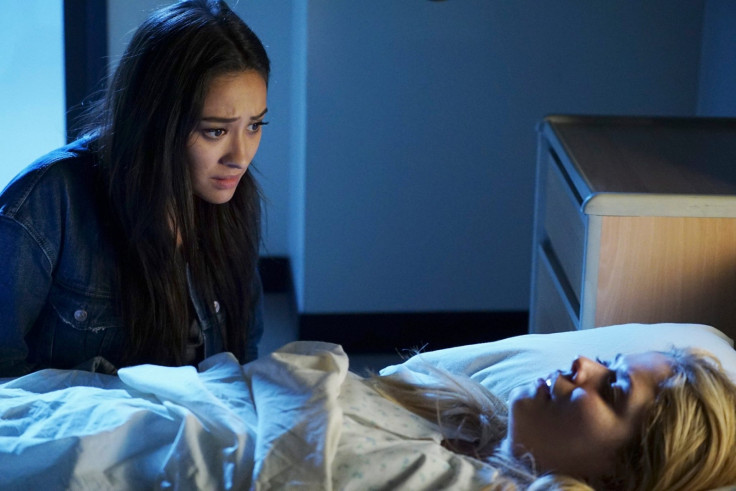 Pretty Little Liars Season 7 will return with episode 2 titled Bedlam. Ali will be in grave danger as she is trapped by Elliot and Mary Drake in a hospital. Hanna's fate is also a mystery after she was found by Mary following her escape from AD's dungeon.
Episode 2 of PLL season 7 will air on 28 June on Freeform at 8pm EST. Click here to watch the show live on Freeform (only in the US).
The rest of the girls, meanwhile, are racing against time to find Charlotte's real killer and they believe Ali has some role to play here. But their wish to meet her will be thwarted by Elliot as this might spell doom for his plan to seek revenge.
Emily somehow sneaks through the doors to meet her friend. As shown in the promo, Ali will try to convince her about Dr Rollins' vicious intentions and it remains to be seen how far Emily will go to trust and free Ali from the clutches of her husband and Mary Drake.
Here is the official summary of Bedlam:
With the fallout of Hanna's abduction still weighing heavily on the PLLs, the Liars begin to grow suspicious of Elliott Rollins as Ali's condition worsens. Tensions rise between Liam, Aria and Ezra as they work on the book together. Spencer and Caleb are on edge, as neither of them wants to talk about the awkward elephant in the room.
It will also be interesting to find out if Hanna will be saved by Mary or if she is the one who kidnapped her. Show producer Charlie Craig has previously warned fans of her evil nature and hinted that the grave shown in the first scene of the premiere episode could have been meant for Hanna.
"I don't think we can say she's saving Hanna," he told Hollywood Reporter. "We love that we started with that grave being dug by the three girls and you didn't see Hanna there, and that is still in the future right now. There is the possibility that they are digging that grave for Hanna.