Prince Harry celebrated the achievement of Britain's sporting heroes at the star-studded Sports Industry Awards at Battersea Evolution on Thursday (26 April). The royal joined 1,700 leading lights from the world of sport as he presented the Outstanding Contribution to Sport Award to world tennis singles number two Andy Murray and his brother, world doubles number one, Jamie Murray.
While Andy Murray who is training for the French Open was unable to attend the event, his mother Judy and brother Jamie accepted the trophy on behalf of the family . "It's amazing," said 56-year-old Judy. "I think we were back in Dunblane a couple of days ago and Jamie brought the Davis Cup trophy back. It's when you go back to the club that I realise what they have achieved.
"They were just two little boys from a little Scottish town that has no record for tennis. As well as being great athletes, they are great kids, they are great people and that's what makes me most proud," she added.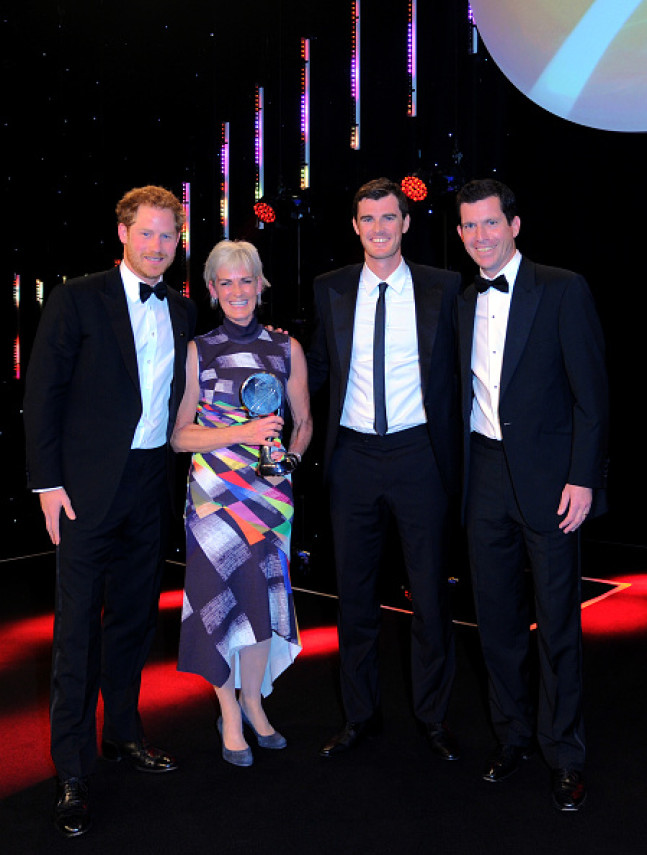 Acknowledging his mother's support Jamie, 30, said: "She created so many opportunities for us, not just us, but other kids across Britain. She wanted to give us the opportunities she never had as a young tennis player in Scotland a long time ago."
In a recorded message Andy Murray, also took a moment to express his pride in his sporting family and his gratitude for his mother's contribution to the sport. He said: "I'm very proud of everything that my brother has achieved in his career to date and everything that mum does for British tennis on a daily basis."
Commending the family for their success Prince Harry said: "It's an absolutely amazing achievement by your family."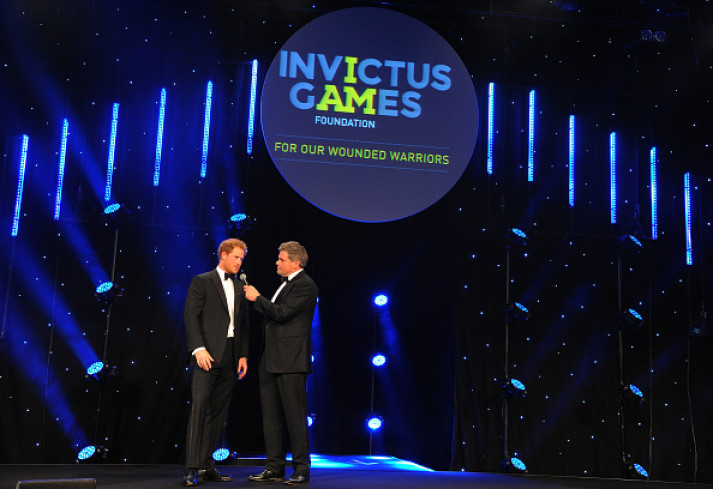 And while the Prince is known for his love of rugby and football, he was forced to admit that he was not quite so confident on the tennis court. "What's a forehand? I'm not very good at tennis but I've been following it for years, especially Wimbledon," he revealed.
The 31-year-old was accompanied by six military heroes and Invictus Games competitors, who poignantly described how they had overcome through sport physical and psychological injury during military service .
Harry has championed the Games, which aim to help the recovery of servicemen and women who have been injured in conflict, since its launch in 2014. He is due to travel to the US in May to support the UK team ahead of the Invictus Games in Orlando, Florida where 500 competitors from 15 nations will compete in 10 sports which vary from athletics to wheelchair rugby.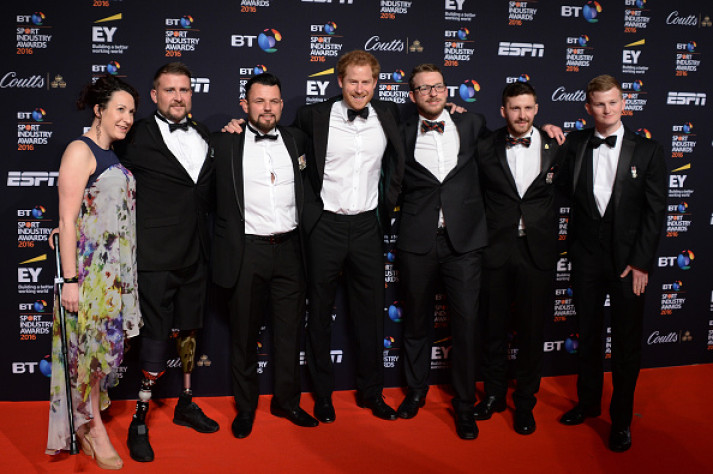 The Prince later posed for photos with JJ Chalmers, Paul Vice, Stuart Robinson, Luke Darlington, Michaela Richards and Sam Stocks. Other sporting personalities attending the event were Chelsea captain John Terry and England rugby star Chris Robshaw and Natalie Pinkham.
The BT Sport Industry Awards is regarded as the most prestigious commercial sports awards ceremony in Europe.