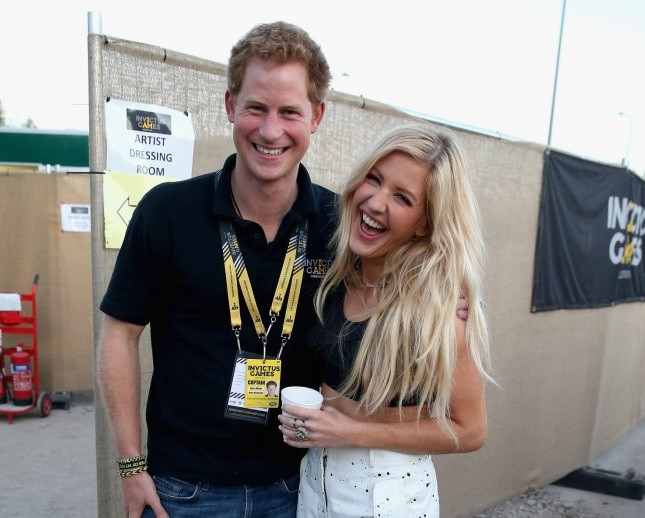 Ellie Goulding has been romantically-linked to Prince Harry for months after they were reportedly spotted kissing "under a blanket" at an Audi Polo Challenge earlier this year, but even the singer was stunned by the latest rumour making the rounds.
The 29-year-old pop star, who performed at the Duke and Duchess of Cambridge's wedding reception, was forced to deny rumours that she is expecting the royal bachelor's baby after being ambushed on Live TV. The Love Me Like You Do songstress appeared on Australian show, The Project, via video link to promote her new single, which features on the Bridget Jones' Baby soundtrack.
Asked whether she would consider herself more like Bridget or Fifty Shades Of Grey's Anastasia, Goulding said: "I'm definitely more of a Bridget, especially in the latest film, she's very relatable to me and drinks like a fish."
Ceasing an opportunity to discuss the singer's personal life, presenter Carrie Bickmore jumped in and said: "You're not having a baby, though? Just to be clear,"
Goulding replied: "I'm not having a baby anytime soon."
The Presenter bluntly "Not having a baby with Prince Harry either, yeah?"
Although she appeared uncomfortable with the line of questioning she attempted to laugh of the awkward moment by saying: "Please don't make me go red. I'm bright red. Why did I have a feeling that was going to come up? Naughty people!"
The Sun previously reported that Harry had been exchanging "flirty" text messages with the Burn singer. Despite being linked together on a number of occasions, the duo have always maintained they are just friends.
"Harry and Ellie only had eyes for each other all night. They spent a lot of time sitting together under blankets," a source told the publication. "They were seen having a kiss before Harry had to go because he was playing polo the next day. Ellie left about five minutes later."
The interview follows a similarly cringeworthy scene that played out in August. Jenna Coleman couldn't hide her annoyance when quizzed about the nature of her relationship with the flame-haired royal. The actress who plays a young Queen Victoria in a new ITV period drama, was discussing her new role on ITV's Good Morning Britain when host Kate Garraway decided to use the royal connection to ask a question on the nature of her relationship with the third in line to the throne.
The former Doctor Who star, who was pictured "looking flirty" with Harry at a polo match back in 2015, shut down Prince Harry romance rumours in an epic way with a death stare and coldly replied: "No, he's a friend of mine."