One is not amused: Dr Who's Jenna Coleman shuts down Prince Harry dating rumors with frosty response
The actress has been dating Game Of Thrones Richard Madden on and off since 2012.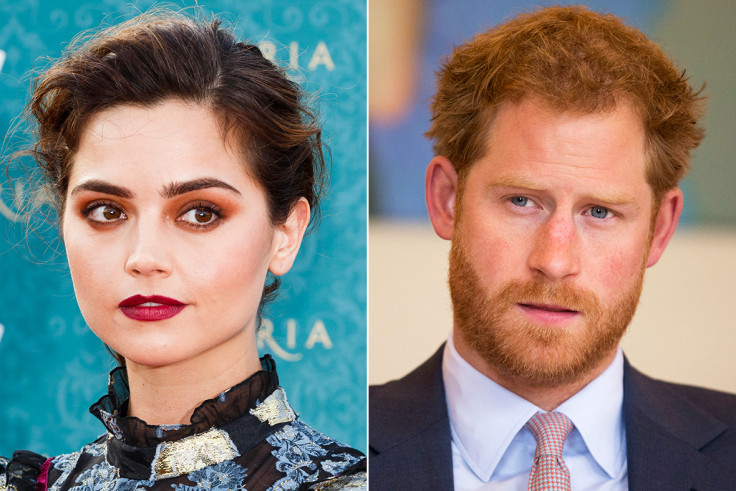 As a celebrity, Jenna Coleman knows speculation surrounding your personal life comes with the territory, but it's safe to say she has grown exasperated by a certain line of questioning.
The former Doctor Who star couldn't hide her annoyance when quizzed about Prince Harry during an appearance on ITV's Good Morning Britain. Coleman, who plays a young Queen Victoria in a new ITV period drama, sent tongues wagging in 2015 when she was pictured "looking flirty" with the flame-haired royal at the Audi Polo Challenge at Coworth Park in Ascot. She was pictured leaning in while he placed a hand on her knee.
On Monday 22 August, the 30-year-old actress discussed the role on morning TV, only for host Kate Garraway to use the royal connection to segue into a question on the nature of her relationship with the third in line to the throne. Garraway begged the question many wanted answering: "Talking about passion, there have been pictures of you and Prince Harry. I'm assuming you were together for research, for the royal family?"
The line of questioning, however, didn't go down too well as Coleman shot daggers and coldly replied: "No, he's a friend of mine." While remaining the ultimate professional, her glacial expression veiled her apparent aversion to the question.
Garraway tried to laugh off the cringeworthy moment by telling the former Emmerdale actress : "We want him married off!"
Viewers flocked online to slam Garraway's interview style and pointed out that Coleman's 'resting b***h face' said it all.
"My new fav b***h face: Jenna Coleman being asked about her relationship with Prince Harry on GMB," wrote one.
Another added: "It should read: Jenna Coleman is starring as Queen Victoria and @kategarraway asks a rude, personal and irrelevant question."
Coleman has been dating Game Of thrones actor Richard Madden on and off since 2012.
© Copyright IBTimes 2023. All rights reserved.