The Duke of Cambridge revealed that he misses his mother Princess Diana everyday, as he opened up while comforting a 14-year-old boy whose own mother died last summer.
The prince was in Bute Mills with Kate Middleton, where the royal couple were visiting youth charity Youthscape. Speaking to Ben Hine's about the loss of his mother Alexandra, who died from cancer in June last year aged 40, William put his hand on the boy's shoulder to comfort him saying: "Time makes it easier."
"I miss her so much," said Ben to which William replied: "I know how you feel. I still miss my mother every day – and it's 20 years after she died."
Speaking to Ben and his brothers Thomas and Richard, plus father Gary, William made them promise that they would keep talking to each other as they coped with their loss as men, he said, are not 'great sharers'. "Promise me that you will talk to each other," he said. "I promise, sir," said Thomas, 20.
Mr Hines, 48, a gardener from Luton, said Prince William was able to empathise with his son. "I was getting all choked up towards the end when Ben was talking about his mum. He gave Ben his absolute attention. You could see that it struck a chord with him."
The Prince showed the same ability to connect with people for which his mother Diana, Princess of Wales who died in a car crash in Paris on 31 August, 1997, was renowned for as he offered support to the grieving family. Visiting the Keech Hospice, the Duchess of Cambridge also comforted a six-year-old boy who lost his older brother two years ago. Giving him a hug she said: "'I love cuddles."
The boys' mother Fiona, 40, a palliative care nurse, said: "Ethan said, 'Excuse me Kate, can I have hug?' She said, 'Yes of course – I love cuddles.' Then she asked Jamie if he would like a hug as well."
Jamie said: "My little brother asked for a hug, and I got one out of the blue."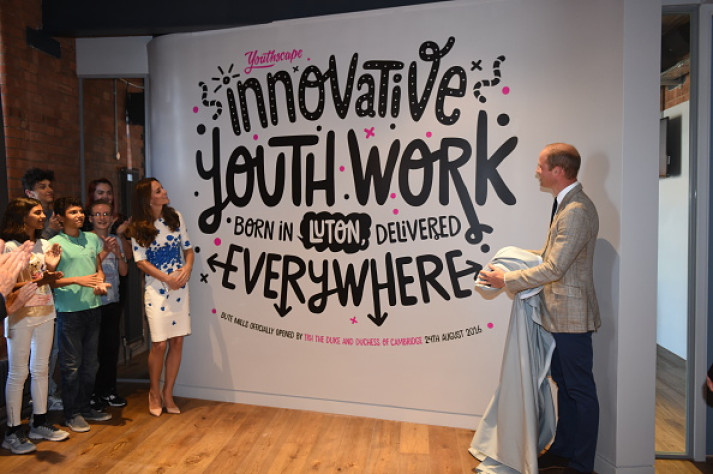 During the visit the Duke and Duchess were given 'memory jars' – bottles full of coloured sand, which are used as a tool by the hospice pre-and post-bereavement to help patients and their families Mail Online reports.
The royal couple – an their two children, Prince George and Princess Charlotte – spent the day visiting the youth project and talking to mental health groups. At Keech hospice, they unveiled a plaque marking 25 years of the adult hospice.