Prince William sent a heart-felt letter to the family of Jacintha Saldanha after her death, it has been revealed.
Saldanha was a nurse at the London's King Edward VII Hospital where Kate Middleton was being treated during her first pregnancy.
She took her own life after answering a prank call by two Australian radio DJs Mel Greig and Mike Christian, who called the hospital, posing as the Queen and the Prince of Wales, pretending to enquire about the newly pregnant Duchess of Cambridge.
Two days after it was broadcast, Jacintha's body was later found hanging in the nursing accommodation. She had hanged herself with a scarf and cut her wrists.
In an emotionally charged letter sent three weeks after the tragedy, Prince William wrote: "Its is unbelievably sad and we both extend to you our heart-felt condolences. It must be a very difficult time fro you with so many questions and thoughts but we both pray that things will get easier for you."
"We were both very shocked to hear about Jacintha and have been thinking about her a lot lately."
"Jacintha looked after us both very well and it is just so sad that someone who cared for others so much found themselves in such a desperate situation."
Sarah Ferguson, The Duchess of York also wrote a personal letter of condolence to Jacintha's son Junal and his 17-year-old sister, Lisha.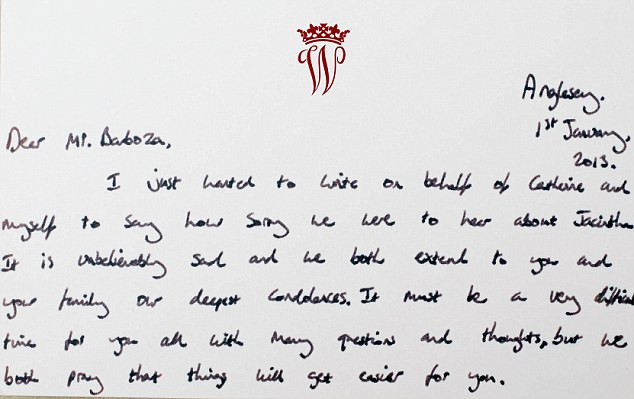 She recalled the death of her own mother, Susan Barrantes, in a road accident in Argentina in 1998 writing: "I send so much love for your broken heart. I am so sorry you are without your Mummy. I lost mine in a car crash, and it is so final, and you wish you had said Goodbye and said so much."
Details of the letters were shared with The Mail on Sunday by Ben and his children as they gave their first interview about the impact Ms Saldanha's death two years ago has had on the family.
Ben also revealed that he cannot forgive the radio station behind the prank call, while Junal revealed he too contemplated suicide as he struggled to come to terms with the loss of his mother.
Ben, 50, said the messages, along with 6,000 others from well-wishers all around the world, brought much-needed strength and comfort to his family during their hardest times.