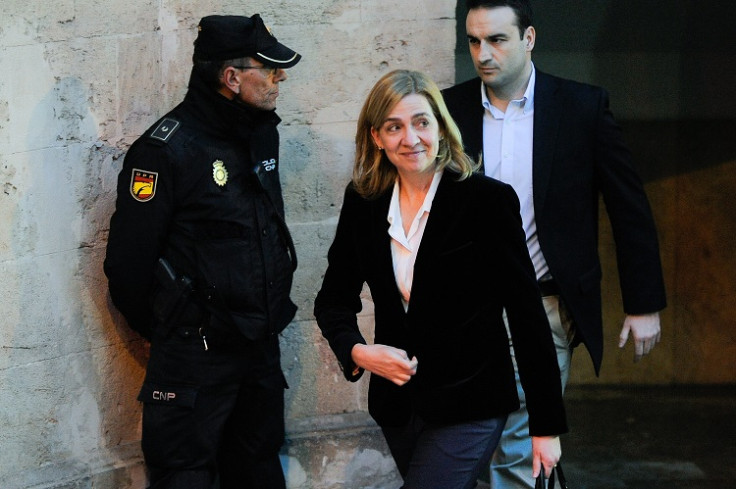 Princess Cristina, the sister of Spanish King Felipe, has been cleared in a tax fraud trial, but her husband Inaki Urdangarin was handed a six-year prison sentence.
The Princess, the first member of the Spanish royal family to face criminal charges, was acquitted. Urdangarin, a 49-year-old businessman and former Olympic handball player, was sentenced to six years and three months imprisonment and given a €500,000 fine (£428,000) after he was found guilty of embezzlement, fraud and tax evasion.
Urdangarin was accused of overcharging the regional governments of the Balearic islands and Valencia for a series of sporting events organised by his non-profit foundation Noos Institute.
Noos is said to have received more than €6m (£4.4m) of public money. The funds were channelled to Urdangarin's personal accounts via tax havens.
His wife was accused of using funds from Aizoon, the real estate company she and her husband co-owned, to pay for her children's clothes and dance lessons as well as work on their mansion in Barcelona. If she had been convicted, Princess Cristina could have faced up to eight years in prison. She was fined €265,000 (£227,000) in civil responsibility damages.
The verdict was delivered in Palma de Mallorca, the capital of the Balearic islands. Many of Urdangarin's business dealings under investigation were on the islands. The couple were not in court for the verdict.
After the scandal broke in 2011, the couple were excluded from all official royal events and duties and Princess Cristina was stripped of her title of Duchess of Palma. In an attempt to avoid further public humiliation, they moved to Geneva with their four children. This decision however sparked further controversy as the Spanish taxpayer had to foot the bill for the family's extra security.