If you're a millennial, chances are you collected Beanie Babies as a kid. You'd sit and admire them whilst eating strawberry laces and playing Mario on your Nintendo Game Boy no doubt.
Now, your passion for following toy trends as a child might pay off, because the Princess bears from the popular Ty brand are now selling for a fortune online.
The purple teddies featuring a single white rose on the chest were developed to help the needy and vulnerable through the Diana, Princess of Wales Memorial Fund which was set up days after she died in a Paris car crash on 31 August 1997.
Dedicated to Diana, the bears went on sale only in the United States in mid-December 1997 and costed around $10 each (£8.50).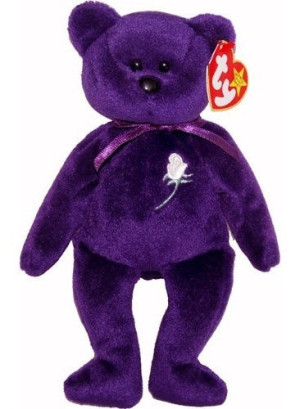 The bears then went on sale in Canada and Europe in late December and early 1998, with all profits going to her charity.
Several versions of the bears were released, with individuals now selling the first editions from the US for around £198,000 on Etsy. Prices of the bears online are currently ranging from $3 (£2.30) to an eye watering $300,000 ( £230, 310) on eBay.
Beanie Baby collectors claimed that the Princess bears were limited edition, which pumped up prices from £10 to over £100 – but Ty confirmed they would continue to produce them. As all Beanie Baby fanatics know, you must keep the important tags attached to the bears – bonus points for the plastic coverings.
The poem inside the Princess bear tag reads:
"She shared her compassion, her pain, her love
"She only stayed with us long enough to teach
"The world to share, to give, to reach."
Ty Collector website has claimed that even the first edition Princess bears are currently worth around $45 from China and approximately $54 from Indonesia. They claim that the sellers on eBay are "uninformed, dishonest or deluded" for attempting to sell or auction Princess for prices ranging from hundreds to thousands of dollars.
The website adds: "Collectors who paid hundreds of dollars for Princess during the initial buying frenzy still believe Princess is worth more than the price they paid.
"Children who received Princess as a gift from their parents believe it is valuable today because 'their parents told them so.'"