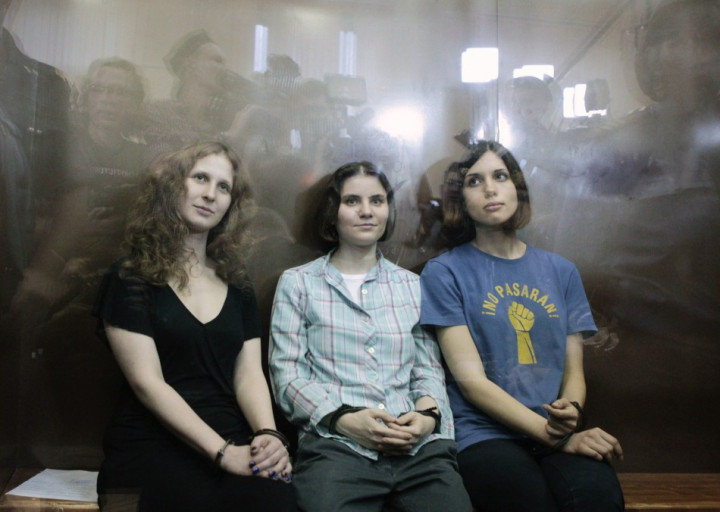 The three members of the jailed Russian punk group Pussy Riot have had their appeal against hooliganism charges adjourned until 10 October after one member fired her lawyers.
The three performers were jailed for two years in August for performing an anti-Kremlin "punk prayer" against Russian President Vladmir Putin in Moscow's main cathedral, Christ the Saviour.
The three Pussy Riot members - Maria Alyokhina, 24, Nadezhda Tolokonnikova, 22, and Yekaterina Samutsevich, 30 - were found guilty of "hooliganism motivated by religious hatred" following the performance on 21 February.
At the opening of the appeal, Samutsevich announced that she had recused her three lawyers over an unspecified disagreement. She added that she had secured the services of another lawyer but had failed to sign a contract.
Prosecutors in the court condemned the move as a delaying tactic.
The trial and imprisonment of the women has casued outrage the across the world, with fellow artists Madonna and Red Hot Chili Peppers showing their support along with international figures such as Aung Sang Suu Kyi.
Russia's prime minister Dmitry Medvedev has also voiced his support by saying the band members should be freed.
Medvedev said in televised remarks. "A suspended sentence, taking into account time they have already spent [in jail], would be entirely sufficient."
He maintained, however, that he was "sickened" by their actions in the cathedral.
The Russian Orthodox Church released a statement condemning the women's actions, claiming they "cannot be left unpunished".
Church spokesman Vladimir Legoida said: "The Church sincerely wishes for the repentance of those who desecrated a holy place, certainly it would benefit their souls."
Pyotr Verzilov, Tolokonnikova's husband, said before the hearing that he doubted the appeal would be successful.
He said: "We never had hope in the Russian state. Now all we do is mount the public campaign and bring attention to the girls' case."