Katarina Samutsevich, one of the three members of feminist punk rock band Pussy Riot, has been freed by the Moscow appeal court but the two-year jail sentence against her two bandmates has been upheld.
Samutsevich's sentence was suspended after her lawyer told the court thay she did not participate in the anti-Putin "punk prayer" at Moscow's Christ the Saviour Cathedral in February. She was inside the church for just 15 seconds, the defence lawyer said.
Samutsevich walked out of court to cheers and applauses after an "emotional goodbye" with her bandmates , the Guardian's Miriam Elder tweeted.
The three bandmates were jailed in August for performing the protest song. They were charged with religious hooliganism.
Nadezhda Tolokonnikova, 22, Samutsevich, 30, and Maria Alyokhina, 24, told the court that their performance was an expression of political discontent and did not amount to hooliganism motivated by religious hatred.
"It's as clear as daylight that this was a political act, not anti-religious. I ask you to quash this sentence," Tolokonnikova said.
Pussy Riot supporters gathered outside the court for the appeal. Their cheers and applause could reportedly be heard inside the courtroom every time Tolokonnikova, Samutsevich and Alyokhina spoke out against Putin in their defence statement.
Orthodox activists were also reported singing anti-Pussy Riot slogans outside the court.
The judges cut the girls short as they tried to broaden their defence focus from the facts of the trial to Russia's political situation.
Defence lawyer Violetta Volkova said the band chose to enter the church at a time when there was no service scheduled to avoid offending Russian Orthodox worshippers.
Alyokhina told the court that the band "didn't want to offend worshippers" but to protest against "the merging of church and state."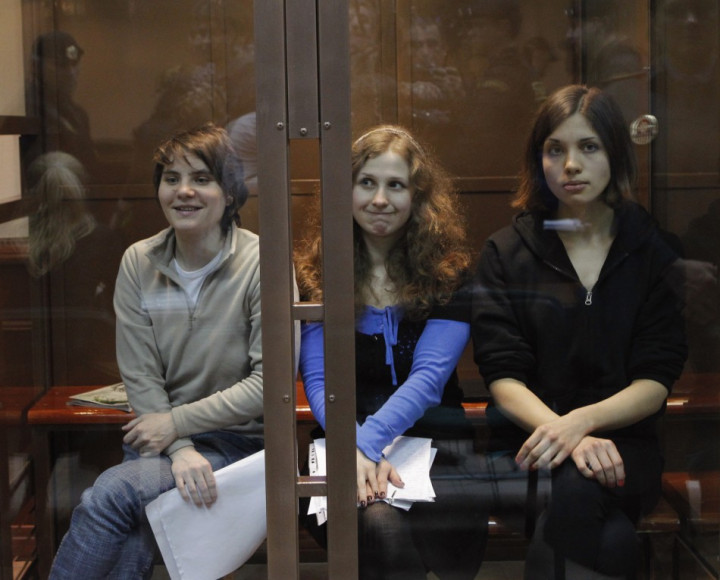 "We are all innocent. The verdict should be overturned," she said.
The band's performance on February 21 was just ahead Putin's re-election as Russian president.
Psychological and linguistic evaluation
Volkova also said the sentence was based on expert opinion rendered by incompetent individuals and that their clients' rights were infringed since they were not allowed to prepare their own questions to submit the experts.
Witnesses were called at the trial to analyse a video of the performance and give a psychological and linguistic evaluation of it aimed to decide if the band had tried to incite hatred.
The defendants' request for a new evaluation was rejected by the appeal judges.
"The Russian justice system looks discredited," Alyokhina told the three-judge panel from behind the glass cage where the three girls sat inside the court.
"It is impermissible to undermine our moral foundations, moral values, to try to destroy the country," Putin said in a commentary on the case.
Earlier, Russian prime minister Dmitry Medvedev had taken a more moderate position saying it was "unproductive" to keep Pussy Riot members in jail any longer.