The Putin phone: Gold-plated Nokia 3310 inspired by Russian leader goes on sale for £1,400
The 'Supremo' smartphone from Caviar is something extravagant to 'Putin' your pocket.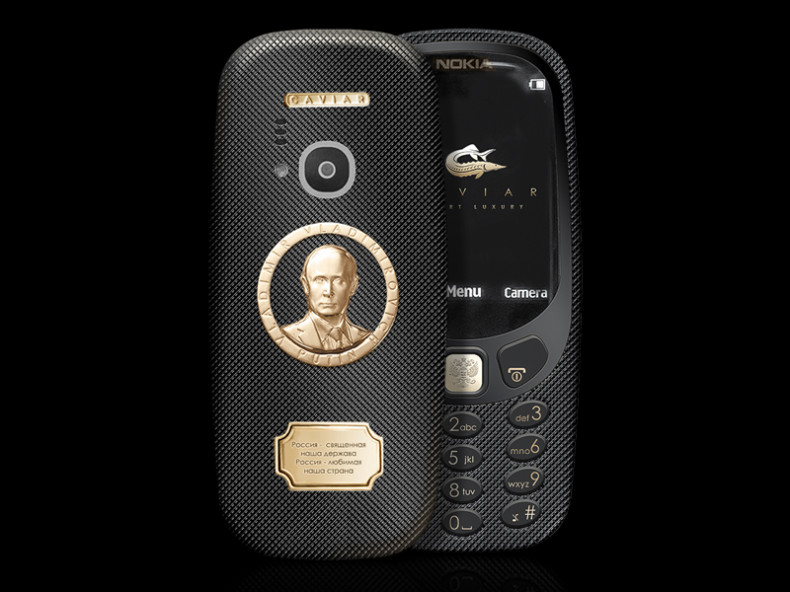 A Russian luxury brand is celebrating the launch of the new Nokia 3310 by releasing a limited-edition handset emblazoned with the face of Vladimir Putin.
The RUB 99,000 (£1,400) 'Supremo Putin' features a gold-plated portrait of the Russian leader on the back and is inspired by "the most popular man in Russia", according to creators Caviar.
The titanium and gold handset features a gold-plated home button bearing the Russian coat of arms as well as a gold seal bearing lines from Russia's national anthem, giving it "luxury, style and character", according to the company.
For added overkill, the customised Nokia comes in a varnished wooden case fitted with a black velvet lining. All this for just 34-times the asking price of the €49/ £41 new Nokia 3310.
The new Nokia phone was announced by HMD global at this year's Mobile World Congress in Barcelona, somehow managing to outshine the latest flagship devices from Sony, LG and Huawei.
The Nokia feature phone is a modern re-imagining of its 2000 classic, echoing its iconic style but benefiting from modern technical advancements such as a colour screen, a camera and (limited) internet access.
"The return of the iconic phone from Nokia has not gone unnoticed by the Caviar designers, who immediately after the appearance [of] the new edition of 3310 introduced its own version," Caviar said.
If that does not tickle your fancy, Caviar also sells a Putin-themed iPhone 7 Plus for £2,900.