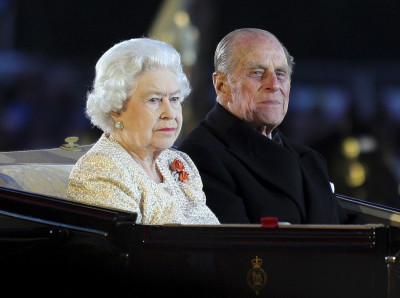 The Queen arrived at the Diamond Jubilee Pageant in a horse-driven carriage along with Prince Philip.
The glitterati event that took place at the private grounds of Windsor Castle on 13 May was attended by over 1,000 dancers, musicians, and performers from around the world. All the performers came together to pay tribute to the Queen's 60 years on the throne.
Performing at the event was Grammy-nominated Susan Boyle, world-renowned American classical violinist David Garrett, critically acclaimed Nashville singer and banjo player Abigail Washburn, among others
There were also performances by legendary Australian entertainer Rolf Harris, metropolitan Indian folk legend Raghu Dixit and leading South African actors from the West End smash hit Disney's The Lion King who were joined on stage by the Nairobi Chamber Chorus & Watoto Children's Choir and classical maestros Il Divo.
According to AFP, troupes from India's Dancing Marwaris to the Chilean Huasos displayed their mettle in a rare gathering of global horsemanship to mark the monarch's 60-year reign. Italy's Carousel of the Carabinieri re-enacted an 1848 battle in a whirl of feathers and swords, before riders from Russia's Kremlin Riding School formed a human pyramid on galloping mounts in a daredevil show of horseback acrobatics.
The pageant included hundreds of horses parading the grounds of the Castle. The equine event was undoubtedly one of the Queen's favourites, as she received her first pony at age four and remains a keen rider, as well as an owner and breeder of racehorses.
The event will be followed by a four-day public holiday on 2 June to 5 June, with celebrations including a festival of 1,000 boats on the River Thames, the lighting of more than 2,000 beacons and a service of thanksgiving at St Paul's Cathedral.
Start the slideshow to catch a glimpse of the Diamond Jubilee Pageant celebrations at Windsor Castle: