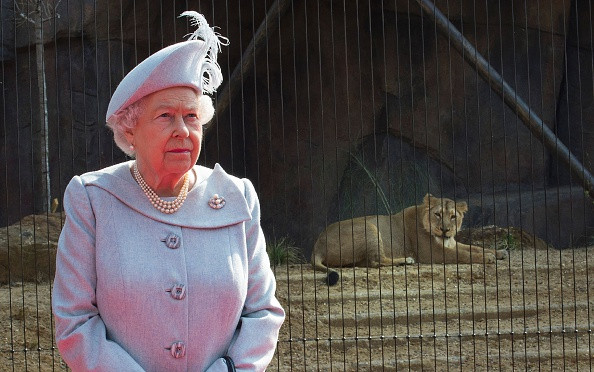 The Queen was upstaged by two roaring lionesses as she paid a visit to London Zoo to open a new enclosure. Accompanied by the Duke of Edinburgh, the Queen unveiled a large plaque to commemorate the visit and the new Land Of The Lions exhibit for the zoo's four endangered Asiatic lions.
While the Queen attempted to deliver her speech, she was drowned out by twin lionesses Heidi and Indi, who were apparently arguing over their own lunch.
David Field, Zoological director at the Zoological Society of London (ZSL) said their reaction was probably "an expression of delight at having the Queen and Philip back again". "The Queen kept taking a look at what the lions were doing behind them – especially when the lions were growling," he told Sky News. "And that's the beauty of it, because you're so intimate and so close with the lions you just don't quite know how close they are to you."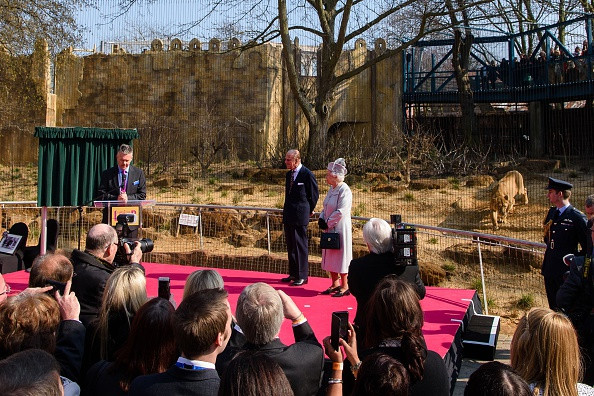 Land of the Lions will form a new breeding centre for a group of endangered Asiatic lions, of which only 500 remain in their natural habitat. The enclosure is decorated with murals of lions and monkeys painted on the old brick walls. As a memento of the visit, Prince Philip was given a reproduction of an Edward Lear painting from around 1835.
The Queen was presented with a photograph of her visit to the zoo 40 years ago in 1976, when she opened the New Lion Terraces at almost exactly the same location.