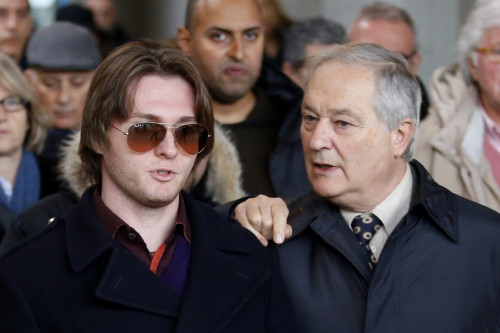 The former boyfriend and co-defendant of Amanda Knox said it was "devastating" that they had been convicted again of murdering British student Meredith Kercher.
Raffaelle Sollecito spoke out after he was found guilty for a second time of killing Kercher in Perugia, Italy, in 2007.
The 29-year-old attended the majority of proceedings in Florence but was nowhere to be seen for the verdict on Thursday night.
He was later stopped near the Italian border with Slovenia by police, but it was denied he was trying to flee justice.
Speaking after he was sentenced to 25 years in prison, Sollecito told NBCNews: "As soon as I got the news there was a guilty verdict, I came right immediately back in Italy.
"It was completely unexpected," he said. "Psychologically, it's devastating."
But he vowed to keep on with efforts to clear his name.
"I have to fight until the end," he said.
His only hope now is that Italy's Supreme Court overturns the latest verdict.
His lawyer, John Kelly, who denied he was trying to get out of Italy when the fresh verdict was reached, said: "He had planned on being away from the courthouse, away from his home and media hotspots after the verdict.
"His passport had been flagged already. It wasn't like he could go to some border and use his passport. He would have been stopped no matter what."
Knox spoke out about her anger on behalf of Sollecito after the pair were convicted of killing Kercher. In an interview with Good Morning America on ABC, she said: "My initial thought after the verdict was, 'Oh my God, Raffaele.' I don't know what I would do if they imprisoned him. It's maddening."
Knox promised to "fight" the new verdict but had no intention of returning to Italy from her home in the United States.