Dear, oh dear. There's either a surplus of cacti in the predominately rainy county of Cheshire, or things are getting a tad too prickly amongst the residing housewives. Viewers were treated to a fair few awkward situations that were cringe-worthy enough to justify scratching one's own eyeballs out in last night's sixth episode of the third series.
Missé was like a squashed gnat under Goliath's foot when Ampika unleashed her wrath over a gratuitous accusation, and we saw most of the clan head to Paris for Seema's Forever Unqiue fashion show, but as ever, that didn't come without its dramas. Check out IBTimes UK's favourite moments of the show.
1. Wardy has gained composure
When things don't go Dawn Ward's way, we're usually subjected to one of her drunken tantrums when she starts cowering over people and waving her tentacles in their faces. This time, when Wardy was neither invited along to Paris by Seema or Ampika (the latter had plenty of space on board her private jet) she kept it together. We couldn't be more proud. In fact, she was on her best behaviour for the whole episode and enjoyed a girly night with feisty redhead Lauren, offering a shoulder to cry on now that she's separating from her husband Paul. Wardy's all grown up!
2. Tanya is a breath of fresh air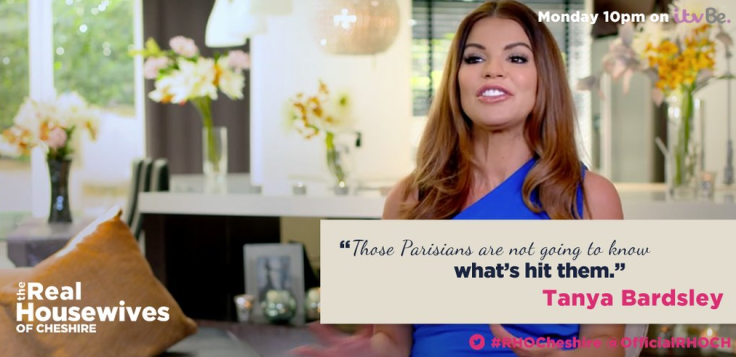 Our current favourite funny girl on the television, Tanya Bardsley, lightened the mood with her infectiously hilarious personality once again. Amidst the bitchiness and grandiose displays of wealth, the Mancunian WAG brought everybody down to earth with her gags, asking her pals for 20p and comparing the Eiffel Tower to the one in Blackpool. Standard. They look scarily similar from a distance, we'll give her that.
3. Missé digs her own grave
It appears that a certain statuesque Swedish model with a beautiful home, wonderful family and plenty of money is more specious than one might expect. Since day one, Missé has verbally bashed Ampika behind her back, despite the eccentric salon beauty owner welcoming the 29-year-old newcomer to the show with open arms. Yes, Ampika likes to wear as little clothes as possible, interfere with her ex-husband Mark's new romance and make crude comments, but is it any of Missé's business? No, not really. Following weeks of slamming Ampika's sartorial choices, the odious model shot herself in the foot in the most ludicrous manner, but is it because she has nothing else to bring to the table? See our next point…
4. Ampika shows us who's boss
Often seen as the neurotic cast member of The Real Housewives of Cheshire, Amipka was the only one making any sense in last night's episode. The flesh-baring divorcee was accused by the audacious Missé of flirting with her 'frenemy' Dawn's husband, former footballer Ashley Ward. Shocked and deeply insulted by the attack, and rightly so, Ampika was forced to defend herself, claiming that she would never mess around with her friends' husbands and that she had known Ashley for "very many years." In her response to Missé, she blasted her a "jealous freak" with "no friends," whilst the flabbergasted model glared down her nose at her whilst her bulging eyes threatened to plummet out of their sockets. That'll teach her not to mess with 'Pikaboo'!