Hugo Barra has left Xiaomi. The man who once ran Android at Google was a superstar signing for the then unknown Chinese startup in 2013, and he was positioned to lead a global charge which would see the smartphone company take on the likes of Apple and Samsung in the hugely lucrative smartphone market.
More than three years later and that global expansion has yet to happen and Barra is returning to Silicon Valley, leaving behind him a company unsure of where its future lies.
"When Hugo joined us 3.5 years ago, we started an amazing adventure to turn Xiaomi into a global player," Xiaomi's President Bin Lin said on Monday. "We have come a long way since, and I couldn't thank him enough for contributing so much to Xiaomi's journey."
But has Xiaomi really come "a long way" in that time? Sure Barra's presence and profile have helped elevate interest in Xiaomi in markets outside of China and India, but you still can't buy a Xiaomi smartphone in all but a handful of countries.
Just over a year ago it was all set to take the world by storm with an official presence at Mobile World Congress, the biggest smartphone trade show on the planet. It should, according to IHS analyst Ian Fogg, have kickstarted a big 2016 for the company:
"I would say that 2016 should have been the year for them to be aggressive internationally," he told IBTimes UK. "They made a high profile announcement at MWC — the Mi 5 flagship. They should have followed that up with a version of the Mi 5 for international markets and been much more aggressive."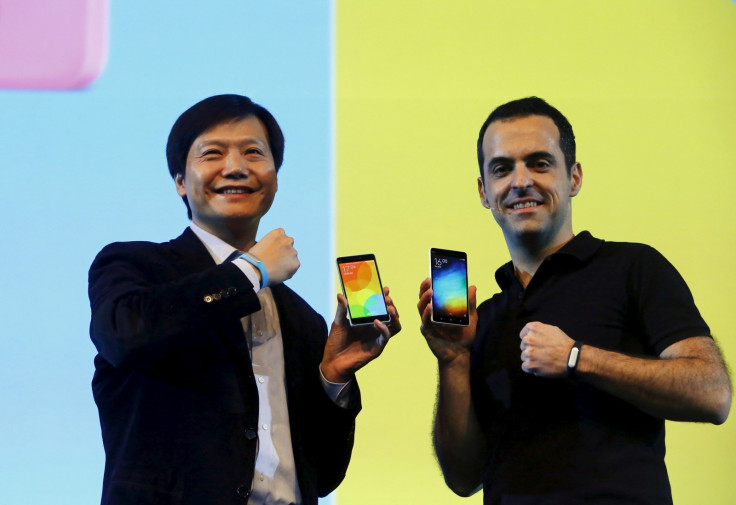 The MWC appearance, which Barra fronted, was followed by a high profile appearance during the keynote of Google I/O. Barra, back in the bosom of his former employer, again disappointed those hoping for a US smartphone launch, instead announcing an Android set-top box.
Just a couple of weeks ago, another tease. Xiaomi appeared officially at CES for the first time, but yet again it failed to take the initiative, announcing another China-only smartphone.
"We don't know to what extent that was Barra's decision or to what extent it was made by [founder and CEO] Lei Jun, but it must have been frustrating to make so little progress – the CES press conference earlier this month was a great symbol of its frustrating decision not to enter the US in a big way, despite lots of interest here," Jan Dawson, chief analyst with Jackdaw Research told IBTimes UK.
Barra's presence and the promise that he was there to lead Xiaomi's global charge almost certainly contributed to the company's $45bn valuation two years ago – a valuation that today seems hugely overblown.
Will Xiaomi enter into new foreign markets?
It has been announced that Xiang Wang will take over "all global efforts" for the company which says it has "ambitious expansion plans for 2017." As senior vice president, Wang has been with Xiaomi since 2015 and currently oversees the supply chain and intellectual property concerns – both hugely important aspects of the business but not necessarily the type of experience needed to lead a multifaceted push into international markets.
Wang also has 13 years' experience working for US chip giant Qualcomm, which may have been of more benefit for Xiaomi's global expansion had all that time not been spent in China.
Why has Xiaomi failed so spectacularly to expand?
The main reason rolled out by most analysts and media outlets (including this one) has been Xiaomi's lack of intellectual property. In short, if Xiaomi was going to enter the US or western European markets, it was going to quickly get slapped with multiple patent lawsuits from the likes of Samsung, Apple and others.
We had seen this in microcosm in India where Xiaomi had initially seen sales of its smartphones halted as a result of infringing an Ericsson patent. But that got sorted and India accounted for over $1bn of revenue for Xiaomi in 2016.
Does the patent excuse really wash?
"Everyone points to IP as the challenge at Xiaomi for going and selling more units internationally, but there are many very successful Chinese smartphone vendors that are selling handsets around the world in significant volumes," Fogg says.
Companies like Huawei, Lenovo, ZTE, TCL (selling phones under the Alcatel brand) as well as up-and-coming brands like Oppo, Vivo and OnePlus have all managed to enter Western markets and continue selling phones there.
Xiaomi has also steeled itself in recent years against such lawsuits by striking patent deals with Qualcomm and Microsoft, suggesting it is ready from this perspective to enter more developed markets
"Why is it that everyone gives Xiaomi this get out clause when all these other Chinese vendors are able to get their act together and sell internationally?" Fogg asks.
The question now for Xiaomi is if, at a time when competition in the smartphone market has never been higher and profits have never been so concentrated in so few companies, it really has the appetite for a global expansion.
Xiaomi is eager to tell the world that it is not just a smartphone company, and it certainly has fingers in a lot of pies – smart home appliances, TVs, tablets, fitness trackers, VR, online banking, scooters and many more – but as Barra himself has pointed out, the smartphone sits at the heart of all these products and still represents the vast majority of Xiaomi's revenue.
Without Barra and the cachet he give Xiaomi, the company will face an uphill struggle to compete on a global scale, and with its sales in China dropping amid fierce competition, the company once dubbed the 'Apple of the East', could quickly become a footnote of the smartphone era.