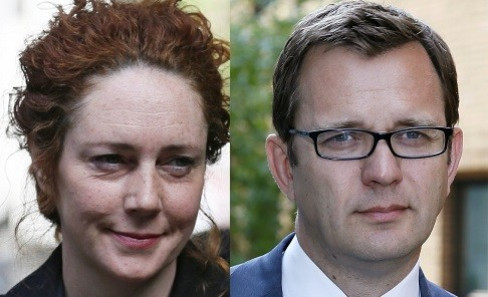 Former News International executive Rebekah Brooks and ex-government spin doctor Andy Coulson are to be appear in court to face phone hacking charges.
Brooks, former editor of the now defunct News of the World, will appear at the Old Bailey along with seven other suspects, including Coulson, to face charges relating to phone hacking and corrupt payments to officials.
Brooks, 45, from Churchill, Oxfordshire, also faces and two counts of conspiring with others to commit misconduct in public office and two charges of perverting the course of justice by destroying notes and computers which could have been used as evidence against her.
Her former personal assistant Cheryl Carter is accused of assisting with one charge of perverting the course of justice between 6 and 9 July 2011. The pair are accused of conspiring to remove seven boxes of material from the News International archive.
The second charge alleged that Brooks, her racehorse trainer Charlie, former head of security at News International Mark Hanna conspired together and with others between July 15 and July 19 2011 to pervert the course of justice.
Brooks, 45, from Preston in Kent, is accused of playing a key role in the hacking of murdered schoolgirl Milly Dowler's phone.
The scandal surrounding the hacking of the murdered schoolgirl led to the closure of the NotW in July 2011.
Coulson, 45, is accused of two allegations that he conspired with the tabloid's former royal editor Clive Goodman, 56, from Addlestone in Surrey, and persons unknown to commit misconduct in public office. He also faces the same phone hacking charges as Brooks.
The paper's former managing editor Stuart Kuttner and former head of news Ian Edmondson are also face phone hacking charges. All defendants have denied all the charges against them.
The long-awaited trial is expected to one of the longest in recent memory and could take up to five months to conclude.
More than 20 barristers and solicitors for the prosecution and defence are expected to be involved in the case. The trial involving Rupert Murdoch's employees is expecting to receive so much worldwide attention that a 'spillover' room for journalists from countries such as the US, Australia and across Europe is to be set up at accommodate to demand at the Old Bailey.