A construction crew has found the remains of at least 21 Second World War Soviet soldiers in eastern Germany. The remains of the Red Army soldiers were found in the town of Seelow, 70 kilometres (43 miles) east of Berlin, during the construction of a cycle path.
Joachim Kozlowski from the charity that takes care of war graves told the German news agency DPA there were probably more bones in the ground. He said they probably died during the last days of the war, in the final battles for Berlin between the Soviets and Nazi Germany. Experts will try to identify the remains.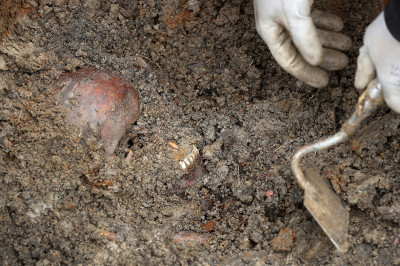 The discovery came as Russia celebrated its annual Victory Day, commemorating the Red Army's triumph over Nazi Germany.
In May 1945, Berlin was a war zone. Everyday life in the capital of Hitler's Third Reich had broken down. The streets were bombed-out, there was no gas or electricity, and there was a daily fight for food. At night sirens howled to signal bomb attacks, driving citizens into shelters. The Allied forces had intensified their aerial bombardment so much that most of the city lay in ruins. The Red Army was approaching from the east; around 2.5 million Soviet soldiers and 6,250 tanks were closing in on Hitler.
On 2 May 1945, Berlin capitulated. Five days later, Germany signed an unconditional surrender at Allied headquarters in Reims, France, to take effect the following day, ending the Second World War in Europe. Some 33,000 Soviet and Polish soldiers, and about 12,000 Wehrmacht ones, were killed around Seelow.