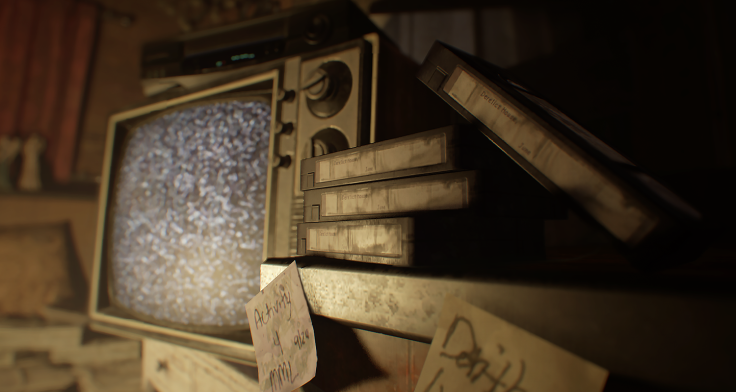 It's almost here – Resident Evil 7: Biohazard. The long-awaited survival horror sequel is about to open the doors of the Baker family home... but not for the first time. The dilapidated rural home in the fictional Dulvey, Louisiana is already the scene of many gruesome murders.
It has even hosted a grotesque VR experience where we got to find out, first-hand, what happens when uninvited guests turn up on their doorstep. Let's just say that the Bakers aren't the most welcoming clan.
If you've played Resident Evil 7's demos, you'll have been offered a glimpse at the main antagonists of the upcoming game. You've crept around what's left of their home, and even encountered one or two of them along the way. Not played the demos? Don't worry, we've got you covered...
Beginning Hour
It's a bit misleading, but Resident Evil 7: Beginning Hour isn't actually the first hour of Resident Evil 7. Instead, it's a standalone story featuring an entirely different character who just happens to find themself waking up in the same grim, creepy old house from the main game.
Why did they go for a standalone experience? Well, it gives players the chance to try out Resident Evil 7's new first-person mechanics... and at first glance, it does so without really impacting the events of the main game. But as you'll soon find out, the various demos soon begin to intertwine... and give fans something to chew on when it comes to the real storyline of Resident Evil 7.
Beginning Hour casts you as an unnamed man who awakes in the house with only one aim – to find a way out. With no combat, it's entirely about survival, and with the spooky surroundings and eerie noises coming from the basement, it's clear that something's not right.
Beginning Hour lets you uncover the hidden secrets of the Baker family's creepy old mansion by following a murderous treasure hunt to its terrible conclusion. It's currently unclear whether these murders tie into the main plot... but you do get a unique item for completing the demo after solving the cryptic murder mystery. An item you can take with you into Resident Evil 7.
But that's not the only connection to the main game. In fact, the more thrilling crossover appears in the form of a creepy VHS tape you find in a locked cupboard. The tape, titled Dulvey Haunted House – Rehearsal reveals the exploits of the Sewer Gators team – an intrepid group of documentary makers who enter the Baker home to film a TV show.
Of course, it all gets out of hand rather quickly.
The show's presenter, Pete, doesn't want to be there, and it's clear there's already some tension between him and his producer, Andre. Cameraman Clancy Javis is new to the group, and as they explore their creepy surroundings, it's not long before one of them goes missing.
"Andre," shouts Pete. "Andre!" Nope. He's gone. The two of you are forced to look for him through a creepy, hidden passageway that Pete stumbles upon in one of the rooms. Obviously, Andre has already been murdered, and when you find him with blood dripping from his eyes and mouth, the camera quickly cuts to black... amidst blood-curdling screams and static, of course.
It may look as though the Sewer Gators team have already met their chilling end, but that's not quite true.
And that's where Kitchen comes in...
Kitchen
The release of the PlayStation VR introduced us to Kitchen – a suitably horrific VR experience leading up to the release of Resident Evil 7. It starts with your character tied to a chair with his hands bound in front of him. It's one of the more unsettling aspects of the demo – after all, it's almost entirely how you would hold the PS4's dualshock controller in front of you while seated. But that's just the start.
It soon becomes clear that the characters in Kitchen are oddly familiar. There's a man on the kitchen floor in front of you wearing a familiar-looking suit. It's Pete... which presumably makes you Clancy.
It turns out that Pete and Clancy survived their earlier encounter, unlike poor old Andre. But after being knocked unconscious and dragged off to another part of the house, they awake in the eerie, dimly-lit kitchen. Looking for a way out, Pete is stabbed through the chest when his back is turned, by a mysterious woman.
It's a pretty grim turn of events, and as Pete is dragged away around the corner, you're left with only the screams, the squishy impact noises and your own imagination to fill in the blanks. That is, until Pete's head is tossed right in front of you.
Who is the murderous, zombie-like woman?
She may well reappear in the main game, but the fate of the Sewer Gators team is already sealed, and like a particularly gory episode of Most Haunted with Yvette Fielding, their legacy lives on only via the VHS tape they leave behind.
Lantern Demo
Unfortunately, the mysterious, knife-wielding maniac from Kitchen isn't the only terrifying woman in Resident Evil 7. In the Lantern demo players were introduced to Marguerite Baker – another member of the clan who is hunting down a young woman called Mia.
Once again, it's all about survival. As Mia, players find themselves creeping around another scary wing of the plantation, desperately avoiding capture once more... but it's not the same house we saw in Resident Evil 7: Beginning Hour. This time, players are pursued through the affectionately named Swamp House.
The demo is framed as a VHS recording. It's not a passive experience – you still play through it yourself. But it seems this is Resident Evil 7's way of delivering chunks of backstory via creepy in-game segments. Expect plenty more of these horrible experiences throughout the main game.
Of all the demos, this is the one most like the final game. There's a typically weird Resident Evil-style puzzle, and the first instances of combat.
Mia is the missing wife of Ethan, the main game's protagonist. It turns out this isn't a standalone demo, but actually a short segment from the final game. So what happens to Mia? Marguerite eventually catches up with her, and it doesn't end well. But for the rest of the story, you're going to have to play Resident Evil 7.
Of course, these are just some of the Baker family's victims, and there are many more about to be revealed in Resident Evil 7. As it turns out, the standalone demos gave us a far greater insight into the game and its storyline than ever imagined.
Resident Evil 7: Biohazard is set to release on 24 January on PC, PS4, and Xbox One.
Nintendo Switch preview: Hands-on with Nintendo's weird and wonderful new console