Artificial intelligence has sped its way into almost every area of modern life - from healthcare to hospitality - so it's not surprising to see the technology beginning to make serious in-roads into the world of toys. There's already been a cuddly toy that can evolve its capabilities through an app described as "Siri on steroids", robots that can perform basic tricks and tasks, and a Barbie doll capable of answering profound questions like: "Do you believe in God?"
Now, a Hong Kong-based firm is bringing remote-controlled cars to life by integrating artificial intelligence (AI) elements into its toys, allowing them to compete against human players in laser battles. The Robotic Enhanced Vehicle (REV) were first unveiled by WowWee earlier this year at London's annual Toy Fair, with the firm revealing its ambition to bring the computer game experience to the real world.
"Connected toys, robotics and AI is really where the industry is heading I feel," Yanofsky told IBTimes UK at the Toy Fair in January. "A lot of retailers are actually expanding those categories. For us the AI can enable us to do so many things.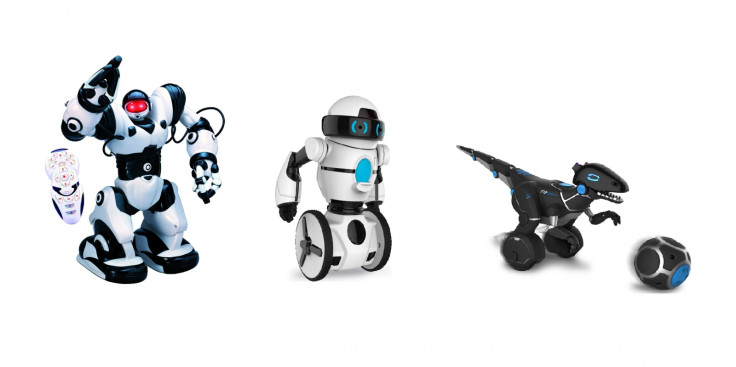 "Rev's technology, for example, is very much modelled on games that you'd find on Xbox. If you're all by yourself you can take one of these cars, set it to computer mode and it can actually follow the other car and act as a real computer as you would see on any video game."
BeaconSense and bombs
The REV pack comes with two cars, which connect via Bluetooth to your smartphone through a free app. A player can then choose to do battle against a friend or go head-to-head with AI characters of varying abilities in campaign mode. According to WowWee, up to 16 players can be added to games that include team battles, chase and evade and capture the flag.
Sensors on all sides of the cars detect whether an opponent has been hit with the virtual weapons that can be deployed, ranging from laser machine guns to EMP bombs capable of disabling vehicles nearby. WowWee's patented BeaconSense technology means that AI opponents are able to sense surrounding objects and vehicles and navigate with surprising skill when set on a difficult mode. Once too much is inflicted, a car is temporarily disabled to allow it to "heal".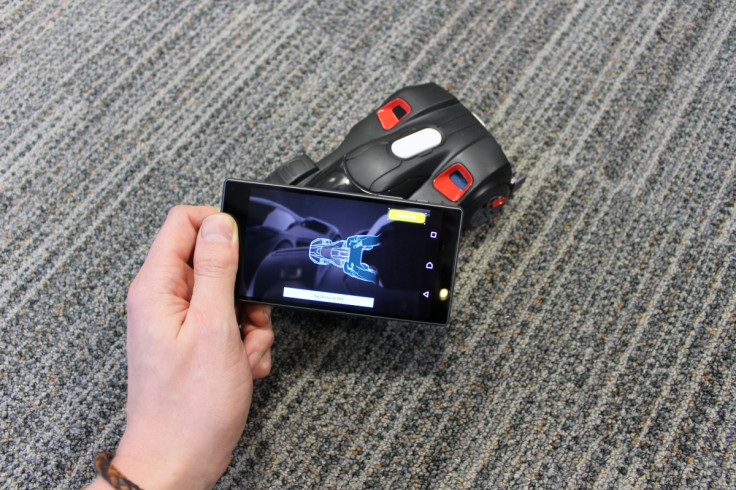 A ramp - sold separately - can also be added to vary the gameplay, allowing players to reboot their health or win extra weapons. The ramp is testament to how sturdy the vehicles are, which despite the array of sensors and technology on show are designed primarily for a demolition derby-style battle. It should go without saying that on top of all this, the REV cars can also be used simply as traditional remote controlled cars.
As addictive as a video game
Generally, the REV is easy to set up and to use, though it does come with the pre-requisite that whoever's playing with it has a smartphone or tablet in order to control it. When used with a small-screened device, the controls can be a bit tricky to get used to. Even after a few hours of playing, the 2D controls still can't match the intuitiveness of the remote controls that come with less advanced toys.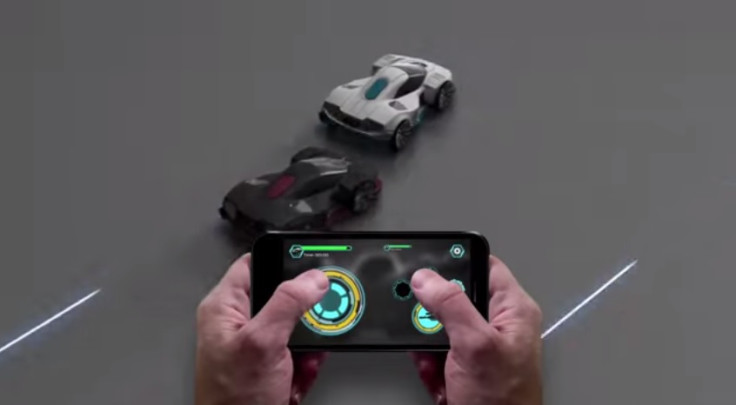 Using a smartphone as a controller does come with its benefits, however. The companion app means that the speed and steering sensitivity can be adjusted, depending the player's skill or - crucially - the playing surface.
We found the ideal surface to be thin carpet, though REV isn't something most people take into account when considering flooring options for their homes. The small wheels of the REV mean that thick carpet can be difficult to navigate if the speed and steering aren't set to high, while laminate flooring can prove to be too slippery to allow effective control if the settings aren't turned way down. Fortunately, the app negates this issue.
Currently priced at around £80 for two REV cars, it's cheaper than most high-end remote controlled cars, and with 25 December just around the corner you should expect WowWee's REV cars to be near the top of the Christmas list of kids and adults alike.
Our verdict
REV - Robotic Enhanced Vehicles
As the first of its kind, REV may still have a few issues to smooth out but WowWee has certainly brought about the evolution of the remote-controlled car with REV. The number of modes and functionalities mean it is as addictive to play as a video game, bringing traditional toys to a level where they can compete with digital experiences.