Last year was a record year for the UK toy market, with the industry reaching £3bn. The growth was helped by toy sales relating to Disney's Frozen, the mini-elastic band craze Looms, and merchandising for the 2014 Fifa World Cup.
This week more than 200 vendors are gathering at London's Olympia for the 62nd annual Toy Fair, showing off what they hope will be this year's biggest toy trend. Separating the top toys from the fad, IBTimes UK has rounded-up the best toys on show to give you an idea of what to look out for in 2015.
---
AI radio-controlled racing cars
---
Hi-tech toy firm WowWee has been paving the way in robotics ever since it released the RoboSapien just over 10 years ago. At this year's Toy Fair WowWee amused visitors with its football-playing robot dinosaur, but it was another of its AI inventions that really impressed.
The robotic enhanced vehicle REV allows players to race and battle against either another person or a bot capable of understanding the player's moves.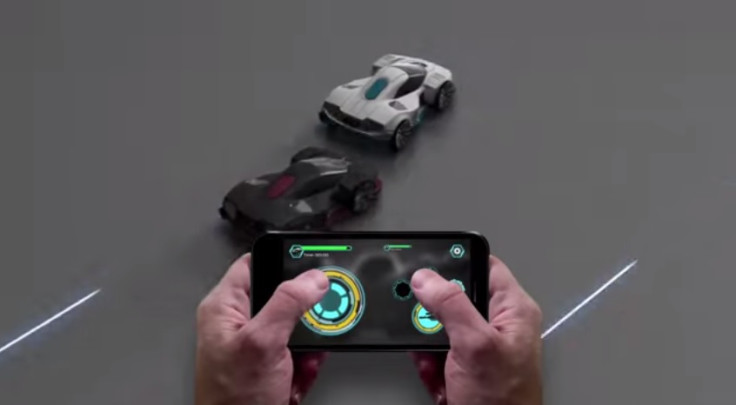 "Rev's technology is very much modelled on games that you'd find on XBox," Michale Yanofsky from WowWee told IBTimes UK.
"If you're all by yourself you can take one of these cars, set it to computer mode and it can actually follow the other car and act as a real computer as you would see on any video game."
---
Driving drone
---
There is no shortage of drones at this year's Toy Fair, as manufacturers seek to capitalise on a boom in demand from customers.
Seeking to set their products apart from the competition, some manufacturers have opted for gimmicks like voice-control or dancing abilities but the best we saw was the 'B' flying car.
Capable of driving like a radio-control car across difficult terrains, when things get too tricky it simply takes off.
"When you see products go into a mass sector, you see so much technology coming out because all the development goes into it," Ashley Grimsey, sales manager at toy firm Amerang, told IBTimes UK.
"It's just taking different aspects and kind of melding them together with the quads to create a completely different product."
---
Meccano's build-your-own robot
---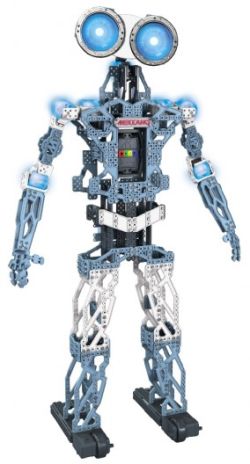 From the relatively new-kids-on-the-block, to the old stalwarts of the toy industry, Meccano has had a 21<sup>st Century makeover with its own intelligent robot.
The Meccanoid G15 KS is a four-foot tall, build-your-own robot capable of telling jokes, responding to instructions and mirroring movements.
"We need more engineers, we need more people who have got technical capabilities. This allows kids to enter that area at a very young age," said Kevin Jones, European managing director at Meccano's parent company Spin Master.
"It (Meccanoid) creates an opportunity for kids to develop computer skills, engineering skills, programming, as well as construction."
The set can be reconfigured to make a rolling dog or even an eight-legged machine, however movements are currently limited to one axis.
The Meccanoid will be on sale in the UK in August for around £265.
---
Jame Bond Scalextric - complete with ejector seats
---
Scalextric announced that it will be releasing a Spectre set featuring an Aston Martin DB10 to go along with the forthcoming James Bond movie.
Although the car models for the set were not actually on show at the Toy Fair, a Scalextric spokesperson at the event said we can expect a release later this year at a cost of around £100.
Scalextric will also be releasing a model racer for the classic Aston Martin DB5 that starred in the 1964 film Goldfinger.
The model will feature a working ejector seat which triggers when the car crashes off the track, as well as rear windscreen that pops out on command.
---
K'Nex Sonic Car
---
Not technically a toy but the K'Nex Sonic Car is worth a mention for the sheer scale of this model.
The life-size reproduction was built by blind veterans from Royal British Legion Industries using 388,000 pieces of K'Nex.