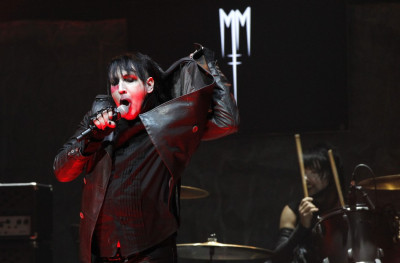 The annual Revolver Golden Gods award show held its fourth inaugural hard-rock and heavy-metal ceremony at Club Nokia in Los Angeles on 11 April. The ceremony was broadcast live on XBox Live, as well as on the XBox and Revolver Facebook pages. The event also featured performances from Evanescence, Alice Cooper and Slash.
The highlight of the function was the performance by Johnny Depp. The actor joined Marilyn Manson on stage to add his guitar talent to "Sweet Dreams" and "The Beautiful People", according to the Noise Creep.
The Los Angeles Times reported that when Depp came on stage Manson introduced him as "my personal saviour, my personal guitar hero". Lately, Depp has been a lot into rock music. He started the band "P" in collaboration with members of the "Butthole Surfers", "Red Hot Chili Peppers" and the "Sex Pistols". He is also part of the band "The Kids" who jam to rock music.
The main performances of the night were by Evanescence - "Made of Stone", "What You Want", and "You Never Call Me When You're Sober". Dee Snider performed "I Wanna Rock" with Black Veil Brides. Slash jammed on "School's Out" with Alice Cooper and Manson performed "The Dope Show", "No Reflection" and "Sweet Dreams".
Meanwhile, "X-Japan" was voted Best International Band while Amy Lee secured Best Vocalist. The Album of the Year award went to the 'Path of Totality" by Korn and "Avenged Sevenfold" got the award for the maximum number of dedicated fans while the very prestigious Golden God title went to Gene Simmons.
Here is the complete list of winners:
Best Guitarists: Jinxx and Jake Pitts [Back Veil Brides]
Best Drummer: Jeremy Spencer [Five Finger Death Punch]
Paul Gray Best Bassist: Nikki Sixx [Motley Crue, Sixx:A.M.)]
Riff Lord: Slash
Comeback of the Year: Slipknot
Best International Band: X Japan
Best Live Band: Avenged Sevenfold
Best Vocalist: Amy Lee [Evanescence]
Most Metal Athlete: CM Punk
Most Dedicated Fans: Avenged Sevenfold
Album of the Year: The Path of Totality by Korn
Golden God: Gene Simmons [KISS]
Ronnie James Dio Lifetime Achievement Award:[Rush]
Finally, check out some of the wackiest moments of the awards function: