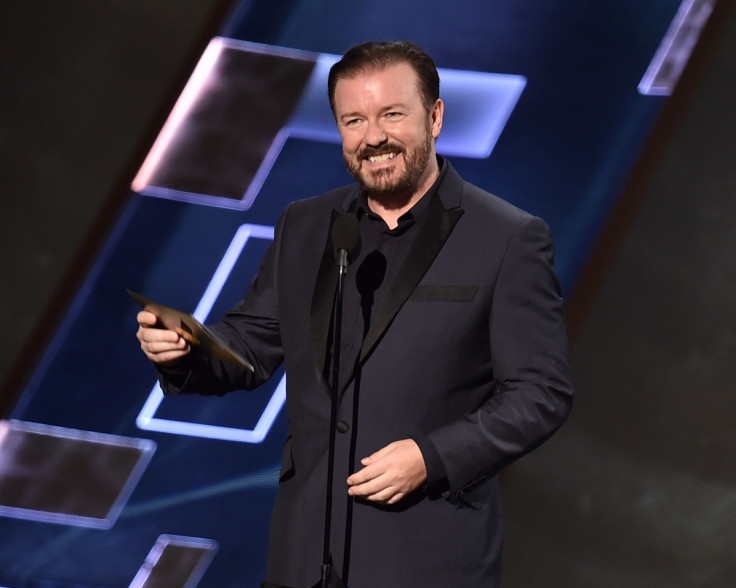 Ricky Gervais has defended his material after he faced a public backlash for making a joke about a dead baby in his one-man show that left two recently bereaved parents distraught .
Ryan and Suzi Gourley walked out of the Humanity tour show at Belfast's Waterfront Hall in shock after hearing the offensive joke. Revealing that they had attended the show for their first night out since the July stillbirth of their son, Eli, they warned other bereaved parents not to attend the tour that left them distressed.
Speaking to Belfast Live, Suzi said there was nothing funny about Gervais remarks."I know people take things differently, and I know our emotions are raw, but why joke about a baby being dead? It's just wrong.
"Some people might read this and think we're over-sensitive and maybe we are – but it's just not funny. We went and hoped to have a bit of a laugh. It was our first night out together – I'd heard of this comedian but I'd never seen him," she explained.
"I didn't know what his jokes were like but I wouldn't have expected that in a million years from anybody."
The Stillbirth And Neonatal Death Support NIalso posted a warning about the comedian's "dead baby" joke on its Facebook page, cautioning bereaved parents about attending.
A statement read: "We have just had a message from a bereaved couple who were at the Ricky Gervais show in the Waterfront Hall in Belfast last night. They have asked us to make any bereaved parents attending the show tonight (March 29) aware that there is a joke in the show about dead babies which upset this couple so much that they had to leave the show.
"Going out after a loss can be a difficult thing to do. There are feelings of doubt, thoughts that you shouldn't be enjoying yourself as it is somehow disrespectful to your child's memory. If you are going to the Waterfront Hall tonight, please be aware of this part of the show as it may be upsetting."
While some fans supported the star, the incident prompted outraged social media users to rebuke Gervais for causing offence. Sharing the sentiments of many, one Twitter user commented: "I heard that your show last night included a dead baby joke ... that's not a joke. That's a heartbreaking reality for many."
The backlash has prompted Gervais to respond with a series of tweets in which he indirectly addresses the controversy and appears to defend the material used in his first tour in seven years.
"Offence often occurs when people mistake the subject of a joke with the actual target. They're not always the same," he wrote. "Jokes about 'bad things' don't have to necessarily be pro those bad things. Surely, a joke that's anti bad things is a good thing, no? Basically, offence is about feelings, and feelings are personal. People simply don't like being reminded of bad things."
Responding to someone asking if he ever found anything offensive, Ricky explained: "Many things offend me. Hardly ever jokes though. Everyone's allowed to be offended by anything though. To each their own."
He concluded by posting an advisory note for anyone intending to see his stand up show, tweeting: "Warning: My stand up mentions AIDS, cancer, Paedophilia, famine, race, terrorism, rape, murder, drugs, death and even food allergies."
When asked by a fan whether the joke would still be featured in his act, he replied: "Definitely."