Within days of being romantically linked to rapper Travis Scott, Rihanna has been a victim of slut-shaming. Instagram page @homiehopperriri was created with photos of her alleged conquests populating the page. Despite having only ever confirmed her romance with Chris Brown, other notable names in the hip hop industry made the cut: Drake, A$AP Rocky, Kanye West and J Cole, to name a few. Cue predictable ridicule, judgment and feigned outrage from social media users.
Unfortunately, this user is not the first to perpetuate the idea that once a woman is romantically linked to a man in the public eye, it means she has seen the inside of his boudoir. Or even more so that choosing to have consensual sex – while being free and single – would be a dangerous move on her part. The latest attack on the singer reeks of double standards.
It is a popular belief that Rihanna brings it all unto herself because of her revealing outfits and raunchy music videos but psychologist Judi James insists it would still be the case if she carried herself like Mother Theresa, because society thinks women and sexual freedom do not mix.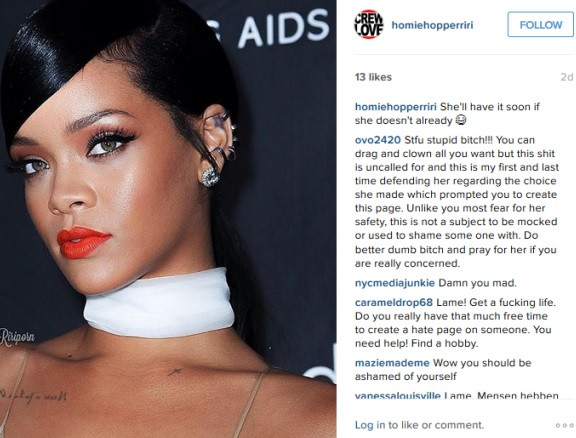 "Sexual equality hasn't really evolved yet, with even other women being critical or disapproving of women who have a lot of sexual partners but approving or even impressed by men who do the same," James said.
Shaming and degrading a female celebrity who chooses to own and celebrate their sexuality is nothing new. Before she got with Scottish DJ Calvin Harris, America's favourite girl next door Taylor Swift had a string of failed romances with the likes of John Mayer, Jake Gyllenhaal, Joe Jonas and Harry Styles. In June 2013, fashion brand Abercrombie & Fitch was forced to pull a controversial line of T-shirts that read "More Boyfriends Than T.S" after coming under fire from the pop star's fans.
While the love lives of celebrities can make for great tabloid fodder, James warns sometimes the media is arming would-be trolls with the necessary ammunition to attack a woman's reputation.
"It is natural to track the love lives of celebrities just as it used to be natural to read romantic fiction or watch romantic films. Watching celebrities fall in love and split up is a source of endless interest and the PR guys milk it for all it is worth with their fake storyboards involving celebrity show-mances," she says.
"Women are still expected to take the role of controlling free sex via their monogamous and even chaste thinking, while men are often seen the opportunists who will get it where and when they can. This thinking doesn't just demean women, it demeans men too."
Although Rihanna has not bothered to entertain the trolls, the Bitch Better Have My Money hitmaker did hint she is still single in a cryptic Instagram post that read: "Omg why are you still single? Cos I'm a c**t."